Offering Hospitality of Mythic Proportions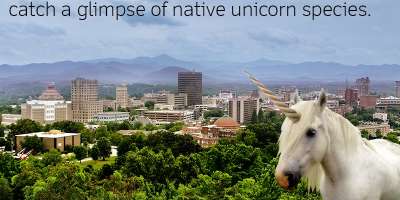 Asheville concierge caters to 
unicorn 
request
When one Asheville traveler requested a unicorn in his hotel room,
Hotel Indigo
concierge Katie Brown didn't bat an eye. Unfortunately for the traveler, his visit was just a bit out of season.
Brown tells her story in
an article on CNN.com titled "Heartwarming, hilarious: Most bizarre hotel guest requests."
According to the article, Brown left a plush unicorn in the guest's room with the following note:
Beloved Guest,

We saw your request for a unicorn. Unfortunately this is the wrong season. Due to their migratory habits, unicorns currently inhabit the second star to the right of twilight.

They are expected to return to Asheville sometime this June.

In the meantime (as Asheville is known among many circles as the Unicorn Capital of the South), we hope that you can accept this very accurate artist rendition of our native fauna.

If this is unacceptable, we do profusely apologize. As you are not the first guest to express interest in our local wildlife, we have planned a meeting with the head unicorn, Lord Mangus Biffy of the Rainbows on perhaps adjusting his peoples/horses/mythical creatures move to somewhere outside the universe to better align with our guest wishes.

Our sincerest apologies,

The Society of Proper and Right Unicorn Caretaking
Hotel Indigo
, known for its personalized service and neighborhood feel, is just one of the many
Asheville-area accommodations
that take pride in offering guests such a high level of hospitality.
Learn more about wildlife in the Asheville area.
March 14, 2014