October is Thomas Wolfe Month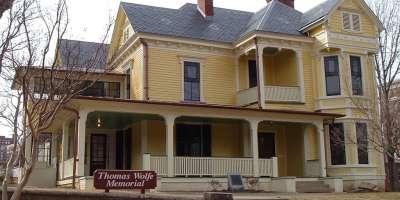 Celebrating Asheville's great American novelist
When Thomas Wolfe's famous novel
Look Homeward, Angel
was published in 1929, it was banned from libraries in Asheville, in protest of the unfavorable way the author portrayed his neighbors. Tempers cooled over time, and the
Thomas Wolfe Memorial State Historic Site
in downtown Asheville is now a favorite historic attraction among visitors and students.
To celebrate the novelist, staff have planned a full month of tours, readings, receptions and workshops,
beginning with Wolfe's birthday on Friday, October 3rd
.
It's a great opportunity to fall in love with Wolfe and his writings, just in time for the 2015 release of
Genius, the blockbuster film starring Colin Firth alongside Jude Law as Wolfe himself
.
Birthday offerings include free admission to guided tours of Old Kentucky Home, the restored boarding house where Wolfe was raised and which he depicted as "Dixieland" in his book. That evening will feature Wolfe readings and a reception open to the public.
Additional events will take place on Saturdays throughout the month of October:
On October 4th & 11th, historic site staff will lead Look Homeward, Riverside Cemetery tours based upon the real people who became characters in Wolfe's works.
The Friends of Thomas Wolfe will present a "Read with the Wolfe" workshop on October 11, offering a variety of Wolfe writings and guiding readers into and the through them in a supportive and explorative environment.
On Saturday October 18th the Thomas Wolfe 8K begins at 10 a.m. in front of the Old Kentucky Home.
A free workshop--"Write with the Wolfe"--will be presented by the new Thomas Wolfe Center for Narrative on October 25th. The workshop is for beginning and experienced writers who will be encouraged to begin a new work in this session. Participants will be encouraged to generate as many words as they can within one hour of writing.
Later in the day of October 25th, there will be an Asheville Architecture Tour through the city tracking the "Boom Town" development of the early 1900s.
For more information about events at Thomas Wolfe Memorial, 52 N. Market Street, Asheville, NC 28801 call 828-253-8304 or visit wolfememorial.com.
September 3, 2014