Obama Hints to NC Move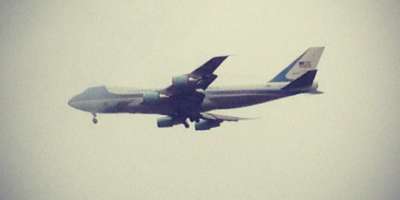 Could Asheville Be President Obama's Future Home?
Air Force One Landing in Asheville.
Photo by Jared Kay.
President Obama flew in to Asheville Regional Airport on Air Force One today. Before beginning his speech he gave Asheville a shout-out, hinting to a possible move to the mountains for retirement.
"I love coming to Asheville," said Obama. "Michelle and I always talk about how if—after this whole presidency thing—we're looking for a little spot to… [responding to audience shout out] come on down." 
"Play a little golf, do a little hiking, fishing, barbecue. There are two things that keep bringing me back here.  Number one is I really like the people, and number two is 12 Bones."
The President grabbed take out at the popular BBQ restaurant before heading out of town. 
February 13, 2013