New Year's Eve Events in Asheville, N.C.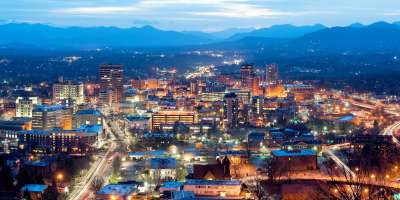 2022 is on the horizon, and in Asheville you can ring in the New Year with a number of spirited celebrations planned throughout town.
Check back frequently for more events and ways to celebrate New Year's Eve in Asheville!
2021 Asheville New Year's Eve Celebrations At-A-Glance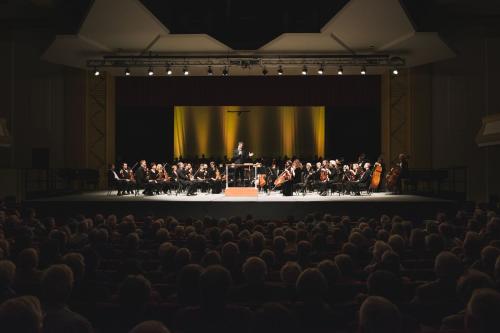 New Year's Eve Concert "Queens of Soul" with the Asheville Symphony – Thomas Wolfe Auditorium, 8 p.m.: Experience the best of Motown, R&B and Soul with Morgan James and Erica Gabriel, featuring works by Annie Lennox, Adele, Marvin Gaye, Whitney Houston, and more, all backed by the Asheville Symphony. Ring in the New Year like a queen: with style and bubbly (the crown is optional).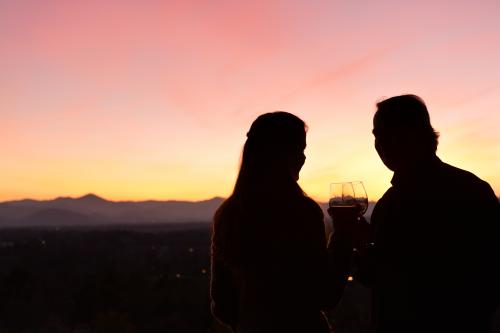 New Year's Eve Heritage Celebration – The Omni Grove Park Inn: At Asheville's most storied resort they'll be ringing the New Year with a Heritage Jazz celebration. Special packages are available that include exclusive events such as the Saturday night comedy show, the Heritage Jazz Dinner and the main event: a New Year's Eve Speakeasy party.
Pigeons Playing Ping Pong Presents: Arena 54 NYE An Intergalatic Disco Celebration – Harrah's Cherokee Center - Asheville, 7 p.m.: Dance into 2022 with a psychedelic New Year's celebration with special guests Keller Williams and Funk You!
NYE featuring Yo Mama's Big Fat Booty Band w/ Rebekah Todd & The Odyssey – The Grey Eagle, 8 p.m. - Yo Mama's Big Fat Booty Band brings the New Year's Eve heat back to Asheville at The Grey Eagle. This is an all ages show.
Arrested Development New Year's Show - Salvage Station, 9 p.m. - Arrested Development will be performing LIVE on the Indoor Stage at Salvage Station on New Year's Eve. Root Down will be serving their delicious twist on Southern Soul food and Salvage Station will have their full bar open for you to enjoy! Doors open at 7 p.m.; show starts at 9 p.m. 21+ only show.
Isa's Bistro New Year's Eve Dinner & Celebration - New Year's Eve offerings include lunch from 11 a.m. to 2 p.m., as well as two dining options. First seating for "Midnight in Paris" will be at 5 p.m. (with a toast at 6 p.m. for Parisian Midnight) featuring a three-course prix fixe menu. Second seating is at 8 p.m. with a five-course prix fixe menu. A live band will ring in the New Year and play throughout the evening.
Hemmingway's Cuba New Year's Eve Celebration - Named one of the top Cuban restaurants in North Carolina, Hemmingway's will be serving its regular breakfast from 7 a.m. to 10 a.m. For New Year's Eve Dinner, in addition to our regular full menu, Hemmingway's will offer New Year's Specials of Paella or Roasted Pig  from 4:30 to 11 p.m. and a rooftop celebration at midnight with band and/or a DJ.
Urban Orchard South Slope with DJ Cousin TL, 7 p.m. - Ring in the New Year at Urban Orchard's South Slope location with all of your hip hop and R&B musical favorites from the 90s and 2000s.  
Empire Strikes Brass New Year's Eve PROM + Andrew Scotchie & the River Rats – Asheville Music Hall, 10 p.m. - We PROMise you won't want to miss ringin' in 2022 at the Asheville Music Hall. This will be a magical night to remember featuring Asheville's very own Empire Strikes Brass + Andrew Scotchie & the River Rats.
Disco Goddess New Year's Eve Party – Vintage Kava, 10 p.m. - Head to nearby Weaverville for a night of dancing and live music to bring in the new year. Vintage Kava will show the ball drop at midnight.
New Year's Eve Tapas – Asheville Mountain Kitchen, 6-9 p.m.: Bring your wine and pair it with delicious tapas. Enjoy a variety of different flavors. Learn, eat and socialize.
Thirsty Monk Biltmore Park Annual Key Drop, 10 p.m. - 1 a.m.: There's no better way to ring in the New Year than with small-batch, delicious beers! The glorious Keg will drop with a countdown at midnight. Tickets required. 
Twisted Laurel Downtown Family Style Dinner, 11 a.m. - 10 p.m.: Ring in the new year with a delicious meal amongst family and friends. For parties over eight people, guests can contact Twisted Laurel to arrange a spectacular Family Style Dinner that accommodates larger groups.
Jesse Barry & The Jam NYE Dance Party at Isis Music Hall, Beings at 8:30 p.m.: Celebrate New Years Eve with a blues, funk & soul dance party brought to you by the high energy of Jesse Barry & The Jam! This is a standing show; dinner reservations can be made in the front dining room prior to the show by calling the venue beforehand.
NYE with Ill Gates, Kirbybright, Zeplinn + Secret Special Guest at The Orange Peel, Doors open at 8 p.m.: Originally scheduled to take place at the Sly Grog in West Asheville, the venue experienced a tragic fire on December 1. The show is moving to The Orange Peel and proceeds will help to support Sly Grog's staff and their reopening efforts.
Live Music featuring Eliza Thorn, Ginger's Revenge, 7 - 9 p.m.: Eliza Thorn is an authentic blues singer from the North country who currently resides in Asheville, NC. Her sultry sound will take you to a place unknown, yet warm and familiar. Admission is free. 
Getaway River Bar (Three Events!): Go into 2022 laughing with Caleb Synan! Guests can pick from two shows (6 or 8 p.m.). At 10 p.m., the bar will ring in the new year with Popperpalooza! NYE Party & Drag Show starting at 10 p.m.
New Year's Day Special Events
Join a ranger at Chimney Rock State Park for the First Day Hike of 2022. The hike begins at the Park's front gate (meet at Old Rock Cafe in Chimney Rock Village at 8 a.m.) and continues up Chimney Rock Road. Learn about Chimney Rock's rich history and unique features as you hike to the base of the Park's Chimney. At the end of the hike, enjoy hot chocolate and coffee.
Kick off your New Year's resolutions with a 5K or 10K jog in downtown Asheville. The 8th annual New Year's Resolution Run is a fantastic way to say goodbye 2021 and welcome 2022 with new goals!  Families and participants of all ages are welcome to come run or crawl their way to completing their first resolution! Race begins at 10 a.m.
If you don't see the event listed for your business, please contact us at news@exploreasheville.com.
Updated December 27, 2021