New Skyline Trail Opens at Chimney Rock State Park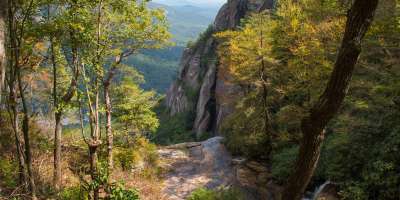 The Skyline Trail leads to stunning views of Hickory Nut Gorge
Chimney Rock State Park has opened a new trail, the Skyline Trail, which travels through a beautiful ridge top forest on the way to amazing views of Hickory Nut Gorge and the upper cascades of Hickory Nut Falls! The 1.1-mile trail begins at Exclamation Point and is considered a moderate hike.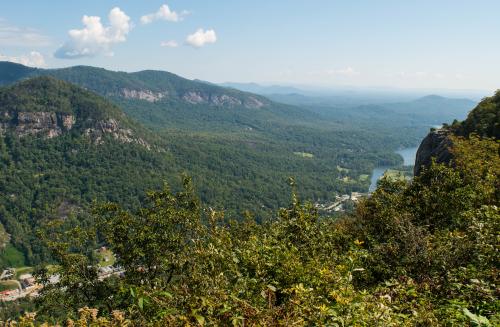 Chimney Rock State Park is just 25 miles southeast of Asheville. The Park features the 535-million-year-old monolith, Chimney Rock, and the 404-foot Hickory Nut Falls. The Park's dramatic landscape was featured in the movie The Last of Mohicans.
To reach the Skyline Trail, you'll need to combine two more strenuous trails from the main parking area. The total hike to the end of the Skyline Trail is a great 3.5-mile workout! You'll gain nearly 1,000 feet in elevation as you make your way to the Park's highest point, Peregrine's Point, at the halfway mark on the Skyline Trail. On average, it takes about 2.5 hours round trip to hike from the Park's upper parking lot to the end of the Skyline Trail.
Along the way, keep your eye open for wildflowers! Right now, fall wildflowers such as White Snakeroot, Wood Aster, Pink Turtlehead and Woodland Sunflowers and Great Blue Lobelia are in bloom.
How to get to the trail
From the upper parking area, take the Outcroppings Trail to Chimney Rock. You'll have to climb 500 stairs on the way, but the 75-mile views of Hickory Nut Gorge and Lake Lure are well worth the effort! At the base of the stairs to the rock itself, you'll see the stairs for the Exclamation Point Trail.
Once you reach Exclamation Point, look for the Skyline Trail sign. It is 1.1 miles from this point to the end of the Skyline Trail. Follow the Skyline Trail as it meanders through the forest to Peregrine's Point and crosses Falls Creek before ending at the dramatic overlook on top of Hickory Nut Falls.
Video Tour
Watch our video tour for sights and sounds from the new Skyline Trail!
Photos and video by Jason Tarr of Explore Asheville.