New Belgium Unveils Plans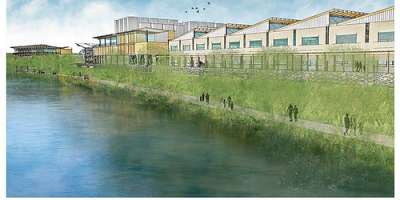 Brews News: Plans Underway For New Belgium's East Coast Brewery. 
Here's a first peek of New Belgium's brewery.
New Belgium Brewing recently unveiled their plans for their new east coast brewery. Slated to open in 2015, their facility will be located in Asheville's River Arts District and will produce up to 700,000 barrels of beer annually. 
Construction of this new production facility comes with the addition of bike lanes, a beer garden and a greenway that follows alongside the French Broad River. Although the tasting room doors won't be open for a few years, New Belgium has already become very active in Asheville's community. They have a dedicated social media presence for their new location and have partnered with RiverLink on a new outdoor summer festival called RiverMUSIC.
July 27, 2012