New and Iconic Tours to Experience This Spring in Asheville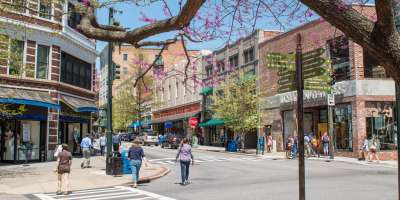 Spring in Asheville, N.C. in 2020 is peak exploration time! Dive into Asheville culture with creative local tours that offer experiences from classic to unexpected, from guided to DIY. These tours will take you to nearly every corner – and touch on most any facet – of this vibrant Blue Ridge Mountain city.
Why visit Asheville in the spring? Sitting along the famed Blue Ridge Parkway and surrounded by 1 million acres of protected wilderness, Asheville's backyard has the highest mountain peaks east of the Mississippi. In these storied mountains you'll discover thousands of miles of hiking and biking trails, George Vanderbilt's 8,000-acre playground at Biltmore Estate, and unmatched biodiversity that brings a parade of blooming native wildflowers.
The Blue Ridge Mountains, some of the oldest mountains in the world, offer one of the longest wildflower seasons in the country. For when and where to spot the daffodils, painted trillium, dogwoods and more, check out Asheville's Bloom Schedule.
Discover these fresh tour offerings and longtime favorites while experiencing spring in Asheville.
Guided Tours in Asheville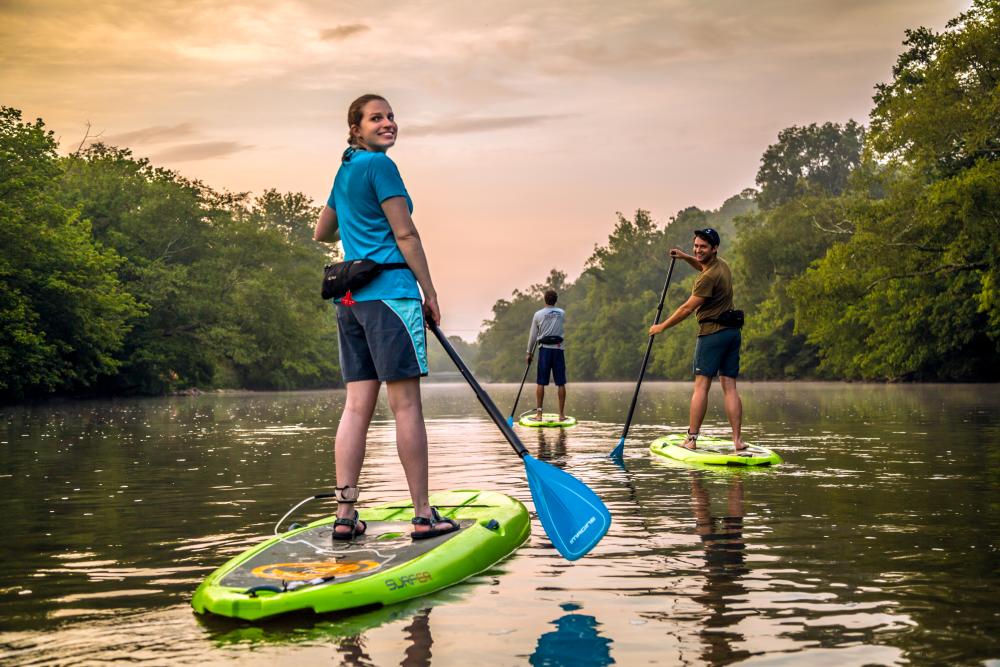 Asheville Wellness Tours, known for their guided tours to zen-filled businesses downtown, have greatly expanded their menu to include NEW yoga hikes, sound-healing sessions, forest bathing, food tours, ziplining, flower-crown workshops and group tarot readings.
Leading yoga, meditation and hiking experiences in the mountains surrounding Asheville, Namaste in Nature offers public and private tours for folks wanting a deeper connection with the nature around them. NEW offerings include mountaintop yoga, waterfall hikes and a "Sunset and Full Moon Yoga Hike" (full moons, March through October) on a scenic mountaintop with guided yoga and meditation. 
Blue Ridge Hiking Company, owned by Appalachian Trail record-setter Jennifer Pharr Davis, is now offering NEW guided daytrips to the Great Smoky Mountains. Lunch and snacks are provided, and hiking spots include places like Cataloochee Valley and Clingman's Dome. The company's downtown retail shop will also offer complimentary fit instruction for any of their hiking and backpacking gear.
Combining storytelling, sightseeing and natural discovery, Asheville Hiking Tours take you on ecotours, led by naturalists, to "secret spots" along the Blue Ridge Parkway and in Pisgah National Forest.
Wai Mauna leads stand-up paddleboard tours on the French Broad River (one of the oldest in the world!) and also has a massive, six-person paddleboard and whitewater SUP.
Offering classes, demos and rentals, Bellyak is an Asheville-invented watercraft that allows you to ride the river on your belly with a face-first kayak and webbed gloves for paddles, providing a one-of-a-kind vantage point while gently floating downstream or for more extreme whitewater adventures.
WNC Photo Tours will offer a NEW "Spring Rhododendron Blooms Tour" in April, May and June focused on capturing the beauty of these native wildflowers with the help of a professional photographer.
Asheville's outdoor scene knows no limits! From biking to rock climbing, fly fishing to rafting or kayaking, check out more outdoor adventures in Asheville.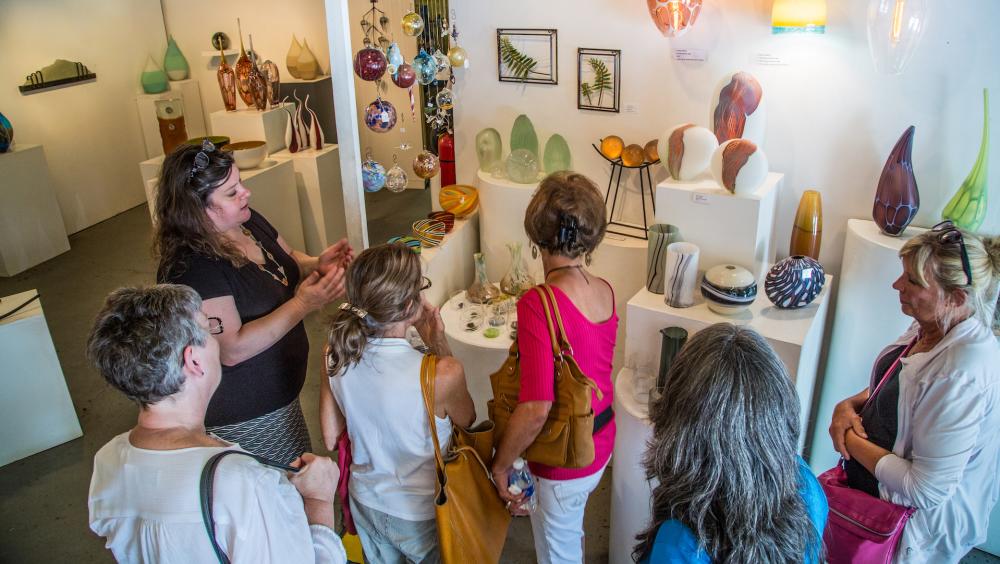 Starting this spring, Art Connections is offering NEW downtown walking tours that will visit four venues (including a few featuring working artists) and focus on the region's history of functional craft to the present-day art scene.
East Fork, the pottery studio and lifestyle brand co-founded near Asheville in 2009 by Alex Matisse (great-grandson of French painter Henri Matisse), has just launched NEW public tours of their factory in Biltmore Village every Friday at 2 p.m. The tours take guests through the full life cycle of a pot, from its origins as raw clay to the vessel on the table. The ceramics-manufacturing facility, which has significantly increased their production capacity, bridges the gap between commerce and community engagement. East Fork's functional-design point of view can also be found in their original retail space in downtown Asheville (and a second one that has opened in Atlanta).
Asheville's Center for Craft – the leading organization in the U.S. identifying and convening craft makers, curators and researchers that just expanded with The National Craft Innovation Hub – joins local food experts for their "Craft City Food & Art Tours" featuring tastings, exhibits and demos of all things small-batch, high-quality and handmade in Asheville.
Get a behind-the-scenes look at the River Arts District, home to more than 200 artists in working studios, with Asheville Art Studio Tours, or try their NEW South Slope tour.
Don't miss the ultimate open house when the Southern Living 2020 Idea House is unveiled in The Ramble community of Asheville, which was selected as this year's location by the magazine's editors as part of the annual celebration of life in the South. Showcasing the latest in innovative design and architecture with inspiration from Asheville's natural beauty and creative energy, the custom showhouse will debut in June, with tickets to tour the home available for sale in late spring.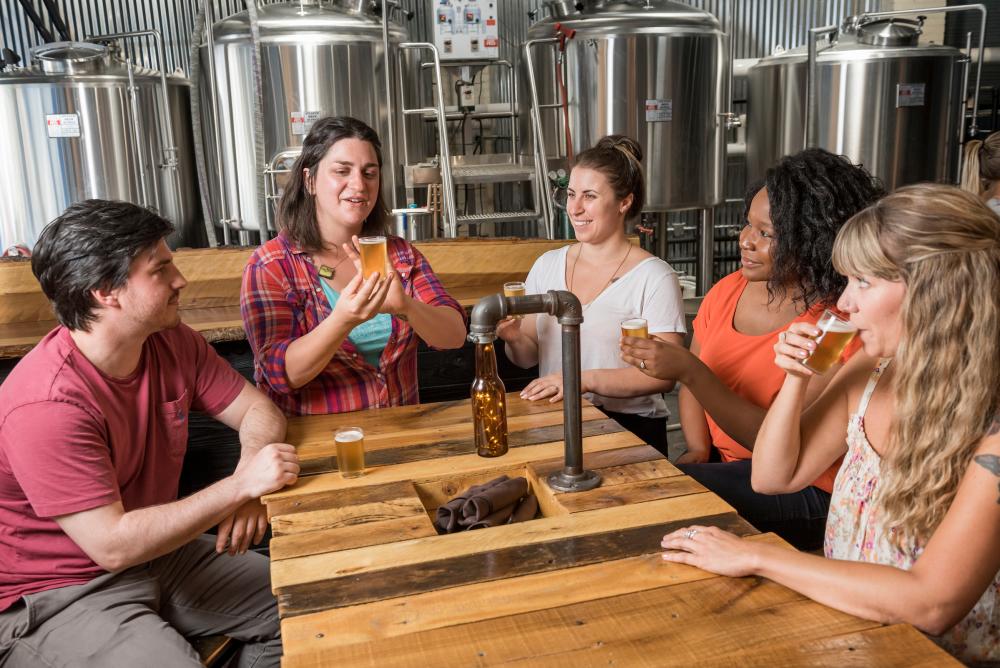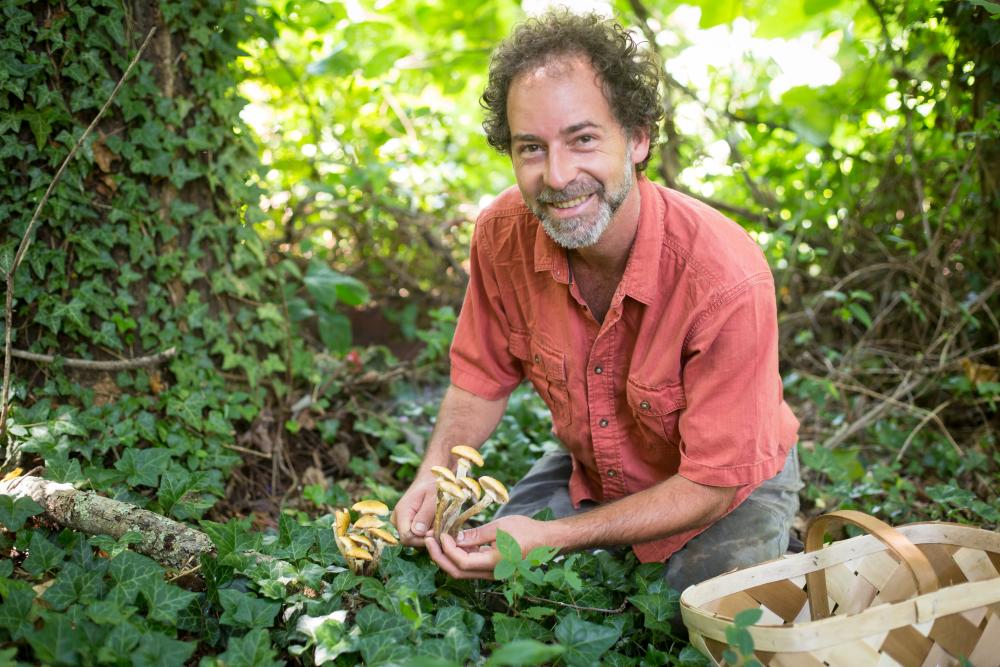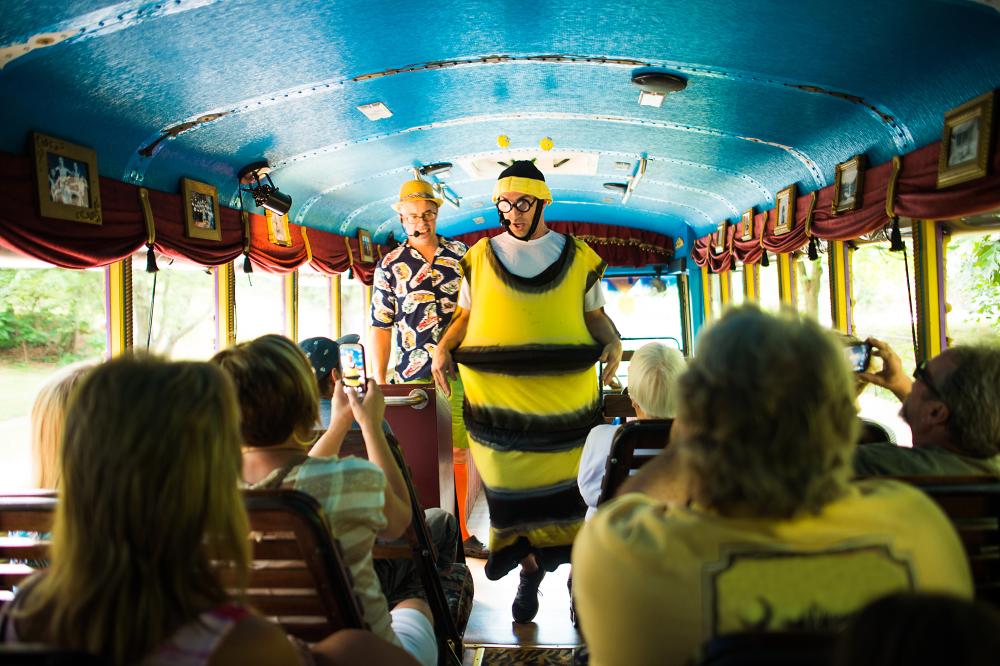 Self-Guided Tours in Asheville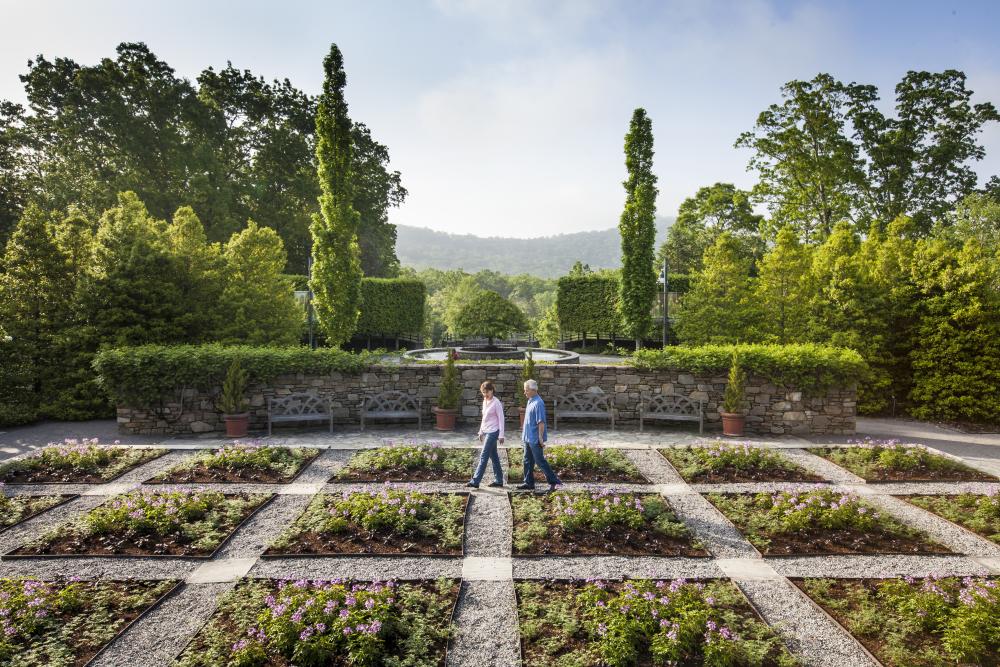 Wander the cultivated gardens and groomed trails of The North Carolina Arboretum. In May, the arboretum is opening its NEWEST outdoor setting, Willow Pond, a learning site focused on salamanders, frogs, aquatic insects and other reptiles and amphibians. Southern Appalachia is known as the salamander capital of the world (20 percent of all the world's species can be found in the Southeastern United States), and the arboretum's ponds host an abundance of salamanders, including the rare mole salamander.
See the manicured grounds of America's Largest Home, Biltmore. Check out Biltmore Blooms, April 1 – May 21, which showcases thousands of tulips, acres of azaleas and rooms full of orchids celebrating the beauty of the estate (including gardens and landscapes designed by Frederick Law Olmsted, father of American landscape architecture).
Take a stroll through a wooded retreat as Highland Brewing Company, Asheville's oldest brewery, launches the first phase of ALL-NEW walking trails this spring just steps outside the taproom on its 40-acre campus, with sections along a creek and old railroad. To coincide, the brewery will release its spring seasonal, Wanderlush, a Hazy Adventure Ale.
One of Asheville's most beloved festivals now has a NEW brick-and-mortar location downtown. LEAF Global Arts Center just opened, offering educational experiences for guests rooted in music, art, community and culture via a mini-theater and global-immersion room using virtual reality, unique musical instruments and a stage for performances and interactive artist workstations. See the Club Del Cardo Music Trail map (LEAF's new space is in the former Club Del Cardo), which highlights music connections to Asheville's lost African-American communities while spotlighting local legends such as Nina Simone and Roberta Flack. Learn about historical performance spaces and other music-themed points of interest, and play songs chosen by community elders from that time period.
From Times Square back to the Blue Ridge Mountains: Experience "Wake," a giant animatronic sculpture by Western North Carolina-based conceptual artist and MacArthur Fellow Mel Chin, on display March 15 – Sept. 7 in the South Slope district. The work was commissioned as part of a multisite survey of his works from across many decades that took place in several New York City locations last summer. Designed by the artist and engineered, sculpted and fabricated by an interdisciplinary team of University of North Carolina at Asheville students, faculty, staff and community artists led by Chin, the interactive sculpture will feature decks and places to sit.
Sample some of the South's best cheeses and meet participating farmstead and artisan cheese producers (and baby goats!) on the WNC Cheese Trail. Asheville-area stops include Blue Ridge Mountain Creamery and Round Mountain Creamery. (Be sure to check visiting hours in advance.)
Immerse yourself in Asheville's art scene, rich craft history, musical legacy and iconic architecture with explorations along the Appalachian Mural Trail (don't miss the NEW fresco at Haywood Street Congregation); the NEW Blue Ridge Craft Trails (a system of drivable trails highlighting the diverse traditional and contemporary crafts found in the North Carolina mountains, with an exhibit of regional works also on display Feb. 10 – May 15 at the Western Office of the Department of Natural and Cultural Resources in Asheville); the Blue Ridge Music Trails (directing visitors on where to find bluegrass, old-time and other styles of traditional music in the area); and the Asheville Urban Trail that takes you straight through the heart of downtown with a collection of sculptures and plaques underscoring the unique history, architecture and people that shaped Asheville's vibrant culture over the years. 
From West Asheville to Biltmore Village, or the River Arts District to the South Slope, Asheville's many neighborhoods have a distinct vibe all their own. Charming nearby towns Weaverville and Black Mountain are also not to be missed. 
INSIDER'S TIP: Looking to find a hike tailored perfectly to your needs? Try Explore Asheville's NEW Asheville Hike Finder, which allows you to filter results based on difficulty, length and distance from downtown. Further narrow your search with your choice of stunning waterfalls, wildflowers or mountain skylines.
Updated December 22, 2022