NC's First Wine Tap Room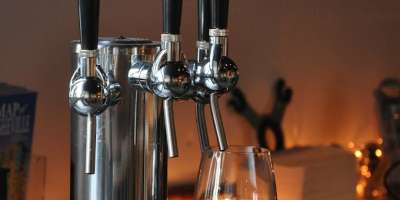 Asheville Wine Bar Taps Into Something Big.
Asheville's wine scene has something you won't find anywhere else in North Carolina. It's a new wine tap system, and it promises to be a game changer in the world of wine.
When Carla Baden, owner of Santé Wine Bar & Tap Room, discovered keg wine, she knew she was on to something big. 
After a brief remodel to install the new tap system, the keg wine is flowing, and the wine's flavor and quality is just as good, if not better, than wine from a bottle.
The benefits of tap wine are numerous. Wine lovers can now enjoy the highest quality wine available, as the tap wine has not touched air until poured into a glass. 
By using kegs, the cost of wine production is reduced and less waste is produced from glass, labels and corks. Also, kegs are reusable, making tap wines more eco-friendly than their bottled counterparts.
The best benefit is being able to taste the wine before you buy. There are currently 12 wine taps at 
Santé,
 and Baden plans to install more in the near future. Some of the wines featured are only available by the keg so be sure to visit this downtown hot spot to find your favorite. Also be sure to take home a beautiful 
Santé
growler filled with your choice of tap wine. You can bring it back in for a refill!
May 2, 2012