Movie in the Meadows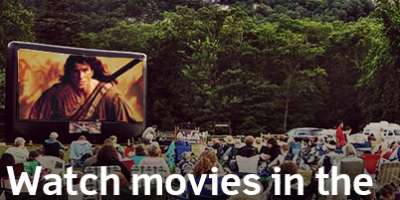 Asheville Insider Tip: Chimney Rock State Park's Outdoor Movie Experience.
It's not too often you can watch a movie in the same location where it was filmed. That's what's happening this weekend at Chimney Rock State Park.
Watch The Last of the Mohicans on a huge outdoor screen where the last 17 min. of this epic romantic adventure movie starring Daniel Day-Lewis were originally filmed. In the film you can see the Hickory Nut Gorge's towering rock cliffs, lush landscape and 404-foot waterfall on the big screen, all the while you'll be sitting right in front of it all.
Bring a blanket or chair and a flashlight. Moviegoers should arrive from 7:30 to 8:30pm, movie starts at 9pm. Pre-show entertainment, concessions and movie merchandise will be offered. A guided hike to see filming locations will be offered at 3:15pm and 4:45pm. 
June 12, 2013