Mountain Views From Space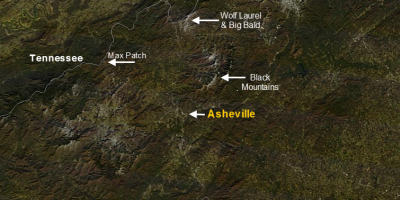 Space station alert! The skies over Asheville are so clear you can see snow on the mountains from space. Pretty cool huh? But that's not all, tonight you should be able to see the satellite that took this image. Our friends at the AB-Tech Institute for Climate Education sent us this:
The image above was taken today (1/5/2012) by the Terra satellite, part of NASA's Earth Observing System. It shows that the 
skies are so clear over Western North Carolina that we can still see the areas of snow left from the snow event earlier this week.
These clear skies should make for excellent viewing this evening of the International Space Station as it makes a pass over our 
region beginning at 6:33 pm.  Look to the WNW. You're looking for a bright light, similar to Venus, that is visibly moving toward 
the south.  Traveling at a speed of over 17,000 mph, the ISS will be visible for over 6 minutes as it crosses relatively low on the 
horizon – at about 30°.
Grab a pair of binoculars, if you've got them, and watch this engineering marvel as it orbits the Earth at an altitude of over 
230 miles.
You'll find more information about spotting the International Space Station here.
Reminder: the Institute's class How the Weather Works: How We Observe and Predict It starts next week! You'll find more 
Information 
here
. Join us!
January 6, 2012