Mountain Moonshine Recipe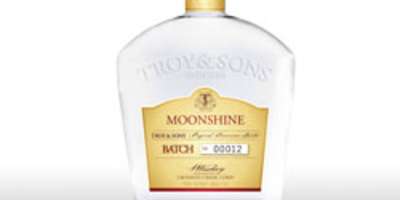 Moonshine has had a tumultuous history in the mountains of Western North Carolina. Corn whiskey, once a source of revenue by many mountain farmers, was outlawed early on in America's history. For hundreds of years, the practice of distilling this particular spirit had to be done in the darkness of night (hence the name moonshine).
These days, distilleries have come out of the darkness in Asheville. Troy & Sons Distillers began producing legal 'shine in 2010. This truly American spirit is a blend more modern and elegant than you would find from a deep-woods still. Their moonshine, made from a rare heirloom white corn, is ultra-smooth with hints of vanilla on the finish.
This new blend of Moonshine is taking the Asheville mixology scene by storm. Many local establishments such as Tupelo Honey Cafe and the Great Hall Bar at the Grove Park Inn Resort & Spa have created entire drink menus around this newly crafted spirit.
We recently met with Kenneth Pace, a sommelier at Grove Park Inn to get this warming drink recipe made with Troy & Sons moonshine. It's called the Valentine Rose and it's one of many tasty concoctions available on their menu. Enjoy!


Visit here for more moonshine cocktail recipes. Learn more about the history of moonshine in the mountains and discover how moonshine is made.
February 7, 2012