Mountain Dance and Folk Festival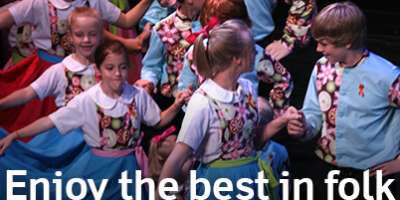 Asheville Insider Tip: The Nation's Longest Running Folk Festival Occurs Every August.
The Mountain Dance and Folk Festival has been in existence for over eight decades, and it remains one of the best ways to experience the mountain region's best old-time and bluegrass musicians, mountain dances (clogging, flatfooting) and Appalachian ballad singers.
The annual festival takes place in Asheville the first week of August. Get tickets here!
The history of the festival stretches back to 1928 when a local folklorist named Bascom Lunsford was commissioned by the Asheville Chamber of Commerce to help drive interest in Appalachian music and encourage travel to the region. His creation was so popular that it continues to this day.
Bascom is known for being a song-catcher. This native of Mars Hill, N.C., worked as a fruit tree salesman, and as he traveled door-to-door across the mountains, he began trading his trees for songs. His goal was to preserve the music for future generations, and since the Mountain Dance and Folk Festival is just as popular today as it was in the early twentieth century, it's apparent that his dream is now a reality.
July 31, 2013