More Moogfest Lineup Additions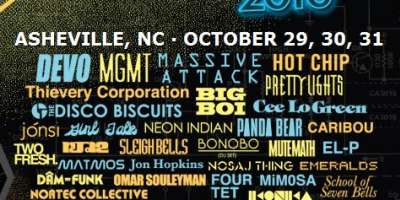 DJ Sets to Satisfy Your Late Night Cravings
With just under one weeks to go until
Moogfest 2010
, it's time to start preparing your costumes - extra treats for Moog-inspired disguises! And as the, ahem, Moog-ster Mash draws near, they continue to round up the ultimate lineup, including many special late night performances to be held at
Stella Blue
and the
Moogaplex
(46 Haywood St.). It's going to be a scream!

The latest
Moogfest
additions include
Javelin, Star Mountain, Lorn and Paper Tiger
, plus the Moogfest exclusive,
Dan Deacon's Ambient Analog Moog Set
. Saturday welcomes
Alex B, The Volt Per Octaves
with Special Guest
Bernie Worrell, Nosaj Thing, Projek Moog
with
Brian Kehew, Pnuma Trio, Strut & Friends
Perform "Check Your Head",
RBTS Win, Virtual Boy and DJ Bowie
. And Sunday will now feature
Dark Party, Shout Out Out Out Out, Headtronics, MartyParty, Mindelixir, THUMP, Dâm-Funk DJ Set, Gramatik and Michal Menert
. Late Nights at the
Moogaplex
are being presented by R
esident Advisor; DJ Times
will be presenting the "Last Gasp" at Stella Blue featuring
MartyParty
. Think you can you handle all that?
October 26, 2010