Moogfest Announces Top Talent for Reimagined Fest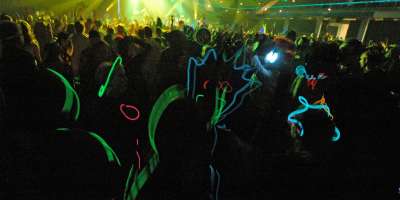 M.I.A., Pet Shop Boys added to evening lineup 
Organizers of Asheville's innovative music and technology festival
Moogfest
made a big announcement this week, welcoming some well-known acts to the lineup of more than 100 artists set to take stages around town this April.
In addition to five days of entrepreneurial and tech-driven talks, and five nights of electronic and experimental musical acts,
Moogfest will also feature iconic electro-pop duo Pet Shop Boys, British rapper and self-declared "anti-popstar" M.I.A. and experimental multi-genre music producer Flying Lotus.
Here are some details from the announcement:
With over 20 years of history under their belt, Neil Tennant and Chris Lowe's Pet Shop Boys have sold more than 50 million records worldwide and are six-time Grammy nominees, recognized as the most successful duo in UK music history by The Guinness Book of Records. Collaborating with theatre directors, architects, set and costume designers, Pet Shop Boys have built their performances into a technologically immersive and visually theatrical experience.

M.I.A. is renowned for her presentation of layered textures of instruments, electronics and unusual sound samples that shaped her acclaimed and distinctive avant-garde music style. From the beginning her music was always an explosion of color, light, and heat as she fearlessly incorporates a range of political, social, philosophical and cultural references into her music, combining her Sri Lankan roots with her urban present to create music that defies existing pop music conventions.

Flying Lotus is an expert at weaving together different worlds and styles to create music that defies genre classification. On his latest record, Until The Quiet Comes, Flying Lotus draws from hip hop, electronic music, and rock, to position himself in the center of a musical web that stretches far from the vibrant sprawl of his base in Los Angeles.
 Moogfest has reinvented itself for its 2014 iteration, which will take place April 23-27. What was previously a three-day, multi-venue festival focused on electronic music has been transformed into a five-day symposium attracting pioneers in the worlds of both music and technology, as well as breakout musical artists and public events.
Stay tuned for more information on Moogfest, and for an exclusive giveaway!


Discover more of Asheville's music scene.
January 31, 2014