Menu Details for Tomato Walk on Aug. 20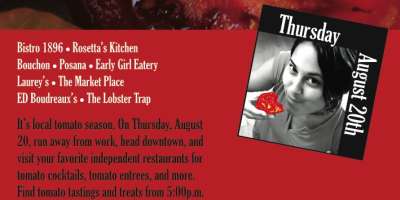 Our contacts in the food scene have provided us with a sneak peek of downtown Asheville's Tomato Walk!

Participating Restaurants

Secret Menu Details
Laurey's and Bouchon will offer tomato samples on the street. At the Lobster Trap, choose from dishes featuring local tomatoes including warm tomato tart, lobster gazpacho and a Sangrita cocktail. Lobster Trap guests who order entrees get complimentary shrimp with cocktail sauce made from local tomatoes and peppers. Early Girl Eatery will offer dishes such as spinach potato cakes with tomato gravy. Other restaurants, such as Rosetta's, will offer a variety of samples too.
August 12, 2009