Mardi Gras Asheville 2013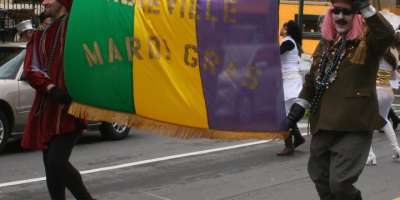 Make Plans to Laissez Les Bons Temps Rouler.
New Orleans isn't the only place where you can celebrate the spirit of Mardi Gras. Asheville has a number of events planned to "let the good times roll." Make plans to attend one of these lively festivities.
Thursday, February 7
LaZoom Mardi Gras Tour - Get on the purple bus for a humorous twist on a city tour. The creators of LaZoom hail from New Orleans so they know first hand how to throw an authentic Mardi Gras celebration. Take part in one of two Mardi Gras tours where you can enjoy performances by David Earle and the PlowShares. Book here.
Friday, February 8
Running of the Winos Asheville Mardi Gras annual traditions of "wine hopping" downtown to spread the Asheville Mardi Gras spirit!
Zapow – Steamboat Punk Carnival Show from 7-9 with music by The Extraordinary Contraptions.
Scandal's Night Club – Krewe Party/Drag Show Party.
Toy Boat – Seduction Side Show with After Party to Follow.
Olive or Twist – Zydeco Dancing.
Make plans to watch the Mardi Gras Grand Parade at 3:05 p.m. in downtown Asheville. This event will happen rain or shine.
Queen's Ball: Immediately following the Parade at Pack's Tavern's Century Room, Free and open to the public. Music by Bayou Diesel
January 23, 2013