Make Time for a Little Horseplay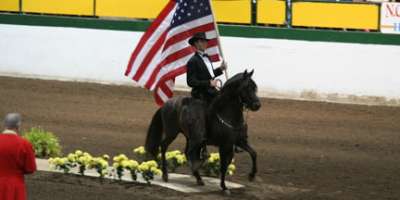 Asheville ALIVE 2011 celebrates the 29th Annual Piedmont Classic Paso Fino Horse Show at the Western North Carolina AG Center this June 23 - 26. This is a fun filled family event that is free to the general public. Come enjoy the finest Paso Fino Horses as they compete for the blue ribbons!
For the kids there is the Tractor Supply Youth Pavilion with activities for all ages. For those looking to do a little shopping you can check out the vendor gallery.
Enjoy the beautiful Paso Fino Horses with their special locomotive gait.
Take your seat in the center arena with great food, music and the Paso Fino Stallions performance up close... or sit in the GrandStands to enjoy the show at no charge! MANNA FoodBank will have food donation barrels throughout the showgrounds – Please help the Asheville community and show your support while you enjoy the Paso Fino Horses.
The Paso Fino (pronounced pah-soo) horse reflects its Spanish heritage through its proud carriage, grace and elegance. The Paso Fino is a warm-blooded light horse breed. Its conformation shows refinement and balanced proportion that conveys strength and power without extreme muscling. With its lively, controlled spirit (known as brios), natural gait and presence, and responsive attitude, the Paso Fino is an unique and desirable equine riding partner. For more information on this special breed visit here or here.
This four day event is packed with special events including the Black Tie and Boots Extravaganza presented by BMW Asheville. More information on all of the great activities can be found on the Asheville Alive's website.
Be sure to book at one of the event's host hotels for a special Paso Fino Horse Show rate. For information on other Asheville activities you can order a free Traveler's Guide.
May 3, 2011