Lights. Camera. Asheville!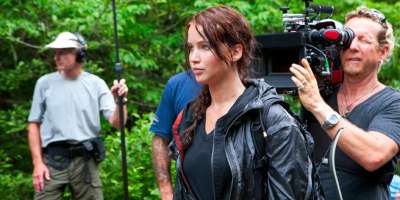 Asheville named #1 town for filmmakers to live and work
Photo by Murray Close
MovieMaker magazine, in an annual round-up, has named Asheville as the #1 town for moviemakers to live and work!
The selection of each town, small city and large city was based on several criteria, including the number of shooting days in the past year, the local film community and culture, and general traits like lifestyle and weather.
MovieMaker
pointed to
Asheville's long history as a shooting location
, best-known for blockbuster hits like
The Hunger Games, Last of the Mohicans
 and
Dirty Dancing
, as well as films such as
Richie Rich
and
My Fellow Americans
.
Shooting Richie Rich on location at Biltmore
Asheville's numerous film festivals also played a part in the vote, as did the area's active cinema society. Local and visiting filmmakers may also want to check out the annual
48-Hour Film Project
, held in June, as well as the
Music Video Asheville
awards in April.
Of course, with a natural backdrop as picturesque as the Blue Ridge Mountains, why would you want to make a movie anywhere else?
Movie stars love Asheville too! Read about celebrity sightings.
February 10, 2014