LEAF Festival Perfects the Art of the 5K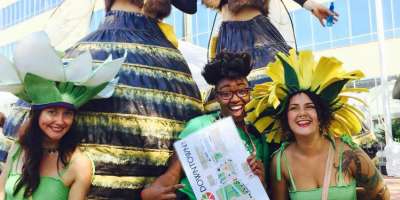 In a city known for its unique artistic vibe, even exercise is far from run of the mill. The LEAF Art Dash 5k is a prime example – it's all about expecting the unexpected. At a turn in the course, you could see a teetering honey bee on stilts. Around the next bend, you may meet a magnificent fairy with sparkly wings.
"LEAF is known for pulling the best artists from the region and many of them will be on the course," said Stephanie Carson, Director of Asheville-based SuperFly Fabulous Events which develops the race. "The artists help celebrate the uniqueness of Asheville and motivate people to run."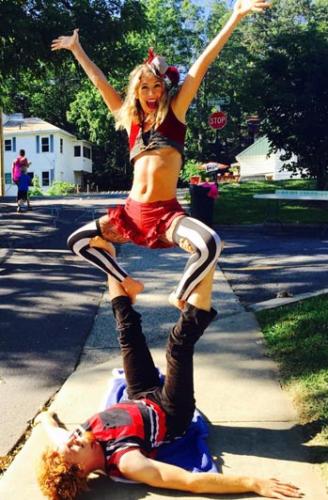 The chip-timed race in downtown Asheville is scheduled for July 30th at 9 a.m. and is hosted by LEAF Community Arts, a non-profit organization. The money organizers raise will directly benefit the LEAF "Schools and Streets Program." That program is designed to inspire students to find and develop their artistic voice. So, your 5k entrance fee could help bring an international artist to do a residency in Asheville classrooms or help provide much-needed art supplies to local students.
When you reach the finish line of the race in Pack Square Park, you'll cross right into the heart of the downtown LEAF Festival, a cultural arts celebration with a robust music lineup spread across three stages. The free, family-friendly event will showcase more than 80 culinary and cultural craft vendors and feature roaming performers. The festival runs Saturday from Noon to 10 p.m. and Sunday from Noon to 6 p.m. This is the second year for both the downtown Asheville LEAF Festival and the Art Dash 5k
LEAF Art Dash organizers encourage runners to sign up early for the Art Dash 5k.  In order to ensure they will have the custom-designed t-shirt size of your choice, they ask you register by Friday, July 15.  The entrance fee is just $25.    
Photo courtesy of Stephanie Carson, SuperFly Fabulous Events.
July 14, 2016