LEAF Brings Funky Cultural Fest to Downtown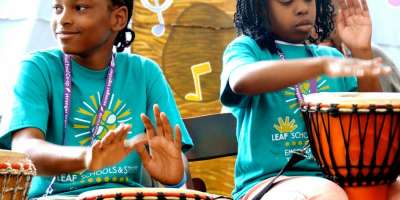 Save the Date for Free Family Fun
Mark your calendars--there's a new reason to get funky in downtown Asheville this summer!
Two years after the final installment of the long-running Bele Chere, Asheville welcomes a new free, family-friendly festival from LEAF Community Arts.
LEAF Downtown AVL will be held in Pack Square Park on August 1 & 2, 2015 and will feature three stages of live music, hands-on arts experiences, local food, healing and handcrafted arts, roaming artists and "adventure zones," plus a 5k and family relay run.
Organizers have already announced musical acts such as  Bootsy Collins' Rubber Band, Sister Sparrow & the Dirty Bird and Empire Strikes Brass, with a full line-up to come later this spring. In the weeks leading up to the festival, LEAF will also be hosting arts camps and the first-ever Bootsy Collins Funk Dynasty Camp, a three-day music camp filled with workshops, showcases and an opportunity to perform at in a final show at New Mountain Asheville.
LEAF is best known for the Lake Eden Arts Festival--a weekend music and culture festival held semi-annually on the former site of Black Mountain College. In its 20-year run, the LEAF festival has been named Western North Carolina's #1 Music Festival, #1 Festival for Camping and #1 Festival for Kids. LEAF organizers also manage LEAF in Schools & Streets (LSS), a program that places artists in schools and community centers for mentoring and performance opportunities. LEAF Downtown AVL will bring the best of both right into the heart of downtown--and for free!
Photo courtesy of LEAF.
April 20, 2015