LAAFF Serves Up Labor Day Fun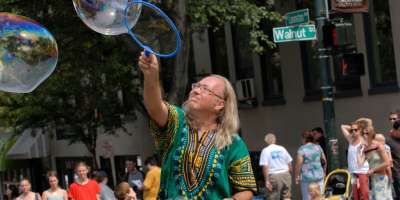 Send summer out in style at the Lexington Avenue Arts & Fun Festival (LAAFF) on Sunday, September 5. The free, family-friendly event takes over three blocks of N. Lexington Ave from 11 a.m. to 9 p.m.
The epitome of Asheville's fun and creative spirit, LAAFF includes local art, food, beer, music, street performers and inspired acts of creativity.
Six stages and performance areas host a variety of talent throughout the day. Musical acts include rock and roll, indie pop, funk, folk, ragtime, reggae, bluegrass and world beats. Performances range from African drummers and belly dancers to contortionist and clowns.
Family fun includes a special LaZoom bus tour, bicycle jousting, big wheels for big kids and Earth Fare Kids Universe.
August 20, 2010