Kayak on Your Belly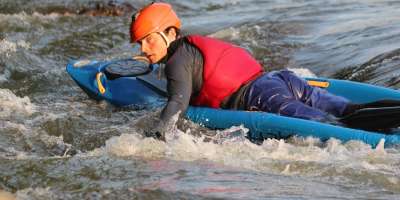 The World's Newest Whitewater Adventure Developed in Asheville.
Photo by Barry Kennon
Whitewater fans now have an adventurous new way to explore the rivers of the Blue Ridge Mountains. Bellyaks, developed in Asheville, are boats designed for paddling on your stomach while using webbed gloves to paddle. This kayaking alternative provides freedom from being strapped in to a boat and provides beginners (and experienced paddlers) a unique way to float downstream.
The bellyak is multi-functional. Beginners may be more comfortable on their stomachs,  while more experienced riders can kneel, stand, squirt and surf just as you would with traditional kayaking. The best part is, if you fall off, it's easy to hop back on board.
A Bellyak is a quick and easy way to get on the water, explore and play! Low risk + high reward = big fun for everyone. Longer than a riverboard, more stout than a surfboard and shapelier than a standard SUP, a Bellyak is a boat designed to be ridden lying down, without restricting straps or a confining spray skirt. Think of it as a belly-on-top instead of a sit-on-top! 
Designed with a planing hull, much like a kayak, Bellyaks cut through the water, while holding the rider above the water, providing a responsive ride and good maneuverability. Bellyaks are approximately 8 feet long and 24 inches wide, with a stable and secure riding area. Weighing in at approximately 30 pounds, they are easy to transport to your favorite beach, river or lake.