Jonas Gerard Paints Live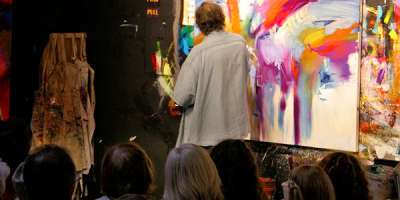 Watch a canvas come to life by the hands of Jonas Gerard at his 5,000 square foot studio and gallery located in the River Arts District. The event is scheduled for this Saturday, July 9 at 2:00 PM.
Jonas is a self taught painter whose work has been featured in numerous galleries across the nation, including the Smithsonian Institution. His mediums are
acrylics on canvas, mixed-media and found objects collage, 3-D wall-hung painted wood sculpture and painted wood / painted steel free standing sculpture. See
his website
for more information.
July 8, 2011