Is Asheville the Next Presidential Retirement Hotspot?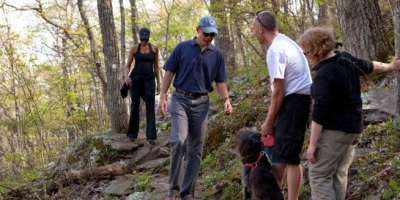 6 Reasons Why Obama Should Choose Western N.C.
The Obamas hiking during a 2010 visit to Asheville.
Photo courtesy of The White House.
President Obama and the first family still have two years left in the White House, but the word on the street is that the leader of the free world is already thinking about life after the Oval Office, and that he's thinking about Asheville.
Online news and financial site
Wall Street Cheat Sheet is reporting that that Barack and Michelle Obama have recently purchased a home in the Asheville area as a post-presidency residence
.
The president has spoken of his love for Asheville on previous visits, citing friendly locals and
12 Bones barbecue
as two of the things that keep him coming back. Obama visited as a presidential candidate back in 2008, brought Michelle to town for a
romantic weekend getaway
in 2010 and has stopped over twice since then--once joking that
he loves the city so much, he should be on the tourism board
!
And while there are certainly many thing to love about Asheville, we have come up with a list of some possible reasons that the first family would turn their sights to the Paris of the South:
1. Listening to the Voice of the People:
Asheville is regularly named a top spot to retire by
U.S. World & News Report
and
Where to Retire
magazine. In addition to four beautiful seasons and top-notch medical facilities, Asheville is also home to the Osher Lifelong Learning Institute at UNC-Asheville, which offers a number of interesting experiences to area retirees.
2. Catering to the Canine:
This area is
known for its dog-friendly businesses
, such as the many downtown restaurants with outdoor dining, as well as for the miles of trails, forests and rivers that are sure to be a favorite of the Obamas' pup. In fact, DogFriendly.com named Asheville and the Blue Ridge Parkway among their "Top 10 Resort Areas to Visit with Your Dog."
3. Looking for Leisure:
During their 2010 vacation, the president a first lady spent a morning on the Donald Ross golf course and at the award-winning spa at
The Omni Grove Park Inn
. With many mountain courses, hot tubs, foot spas and wellness tours, experiencing them all is best attempted with a home base nearby.
4. Hungry for Local Food:
On that same vacation, the Obamas dined at
Corner Kitchen
in Biltmore Village, a perennial favorite for classy cuisine in a casual setting. It only serves to reason that they loved their dinner so much that they want to live close to both
Corner Kitchen
and chef Joe Scully's newer eatery,
Chestnut
in downtown Asheville. Of course, there are
250 other local restaurants to try
...
5. Thirsty for Beer City:
A number of
Asheville's 19 craft breweries
have opened since the president's last visit, so there's plenty of new brews to sample. Or he may just have a craving for the President's Spring Break Ale that
Asheville Brewing Company
bottled specially for his 2010 vacation.
6. We have Round Rooms, Too!:
 If President Obama finds himself feeling homesick for the curved walls and doors of his former office, then he only has to take a quick trip over to
Biltmore
, where Mrs. Vanderbilt's bedroom and others espouse the circular shape. Problem solved!
Vacation Like a President: Obama's Asheville Itinerary
June 10, 2014