I Love Snowboarding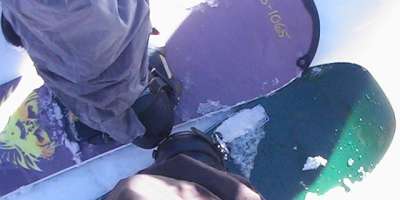 Everyone has a passion. Whether it's fly fishing or mountain biking, we've all got something that we love to do because it makes us feel alive. My passion is snowboarding. I grew up in New England and moved to Colorado in search of fresh powder. Then one day, life threw a beautiful Ashevillian girl into the mix. I had to make a choice: to be alone with my snowboard, or to leave those snowy peaks behind in pursuit of an even greater passion. Like many of the romantic hearts who populate this city, I moved to Asheville to be with my love.
Fortunately, Asheville's got some
snowy slopes
of its own. Last Saturday we went to
Cataloochee
and I got my first taste of Southern snowboarding. My east-coast roots kicked in and I had myself an excellent time!
The warm sun and blue skies made for soft snow and a beautiful day. Riding fast, popping off bumps and rollers, throwing down a quick 3 here and there, hittin the jib park, weaving and carving down the mountain, all in all it was a super fun day. Only four days left until we ride again… on
Valentine's Day
!
February 10, 2009