Hunger Games DVD Features Asheville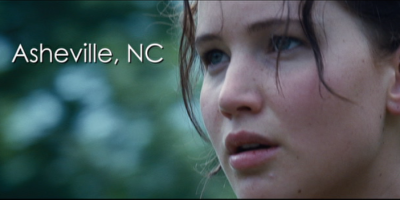 DVD Offers Previously Unseen Footage of the Blue Ridge Mountains, Plus Cast and Crew Commentary on Asheville.
Before you run out to see Catching Fire, the highly-anticipated second installment in the popular Hunger Games trilogy, be sure to watch the first movie on DVD. The bonus disc comes with special features on Western NC, including interviews with the cast and crew and behind the scenes footage from the filming locations.
UPDATE: Thanks to our reader Tyler, the location information has been amended: On the bonus disc, watch "On location in Panem" to see the various scenes filmed around Western NC. This includes Dupont State Forest in Transylvania County (Arena scenes), Hildrebran in Burke County (Seam scenes), Cleveland County (Reaping Scenes/District 12) and the Reservoir in Black Mountain (Cornucopia Scenes).
Quotes from the DVD:
"Asheville is a very special place. It's different than any other city around it."
- Director, Gary Ross.
"I loved Asheville. It has a cool kind of almost hippie sort of downtown vibe like stuck in the middle of the mountains. So, it was beautiful scenery with amazing food and really nice people."
August 27, 2012