How To Spend Halloween in Asheville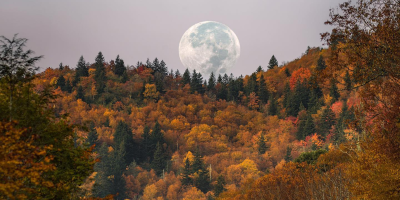 With the crisp arrival of autumn, Asheville also welcomes a magical time of secrets, surprises, and a hint of the supernatural. Experience the thrill of spooky season in the Asheville area—from late-night drives along the Blue Ridge Parkway to delicious fall treats, special seasonal events and more—with our guide below.
Haunted Tours and Halloween Experiences in Asheville
LaZoom Ghosted Comedy Tour – You'll laugh! You'll scream! You'll see ghosts! Grab a local beer and hop on the Big Purple Bus for a hilarious guided tour of Asheville's most ghostly tales. 
Haunted Asheville Tours – Developed by renowned paranormal expert and TV personality Joshua P. Warren, these Friday night walking tours are the only tours to include admission to the Asheville Mystery Museum, located in the basement of the Asheville Masonic Temple.
Haunted History and Murder Mystery Trolley Ghost Tour – Hosted by Gray Line Trolley, experience more than an hour of ghoulish delights across Asheville, all from the comfort of their iconic red trolleys.
Haunted Self-guided Driving Trail – What is it that gives Asheville so many ghost stories? Tales of the haunted, the creepy, the eerie, and the outright macabre mark the landscape here with sites that locals love - or fear. The WNC Historical Association at the Smith-McDowell House created a 22.5 mile self-guided driving tour for you to enjoy.
Halloween Costume Contests, Parties and More
Friday The 13th Halloween Circus Spectacular | Girl & Goblin | October 13
Celebrate this once-in-every-11-years event with a night of comedy and circus fun at the Girl and Goblin.  
Cat Fly Halloween | Wedge Brewery at Foundation  | October 14
Get campy with it at the Wedge Brewery this October with a night honoring camp film's place in film culture. Dress up in your most creative costume and watch the creepiest indie films of the South.
Join local photo studio Atelier Unforgettable for a truly memorable Halloween costume contest and party. Be entertained by DJ Remix Weddings, snack on some spooky treats and maybe take home a prize.  
Foodies, it's time to get your spooky on. Enjoy an in-person charcuterie workshop where you can show off your creepy culinary talents. After you're done, take your work home and enjoy a devious midnight snack. 
For the healthier crowd, lace up your tennis shoes and outrun the ghouls and goblins for a good cause. The 6th annual Wicked Halloween 5k & Run, slated for October 21, kicks off in Carrier Park at 10 a.m. with a costume contest at noon. 
There's a masquerade happening in downtown Asheville featuring a night of wonder and performance. Don your mask and immerse yourself in the twists and turns of a Venetian ball this October at the Masonic Temple. 
Kick off a spooky weekend with some fun times at Catawba's 6th annual Halloween Bar Crawl, which includes two full days of bar crawl adventures.
Enjoy the music of the night and contribute to a great cause with an evening of unforgettable fun at the Vampire Ball. Indulge your inner vampire and dance until dawn (10 pm) at the Black Mountain Center for the Arts. Dress to impress at this fall fundraiser for the arts. 
Halloween Mimosa Yoga | Pleb Urban Winery | October 29 
Join the folks at Pleb Urban Winery for a luxurious morning of mimosas and yoga on the morning of October 29 before embarking on a night of Halloween fun. The class is suitable for people of all levels; and, there will be a costume contest—so don't be afraid to dress your best. 
Enjoy a night of treats and no tricks at the ghostly Pink Lady Party at Omni Grove Park Inn. The night will be of themed cocktails, small plates, treats and private tarot readings.
Ghouls Night Out! Halloween Party at Asheville Beauty Academy | October 31
Enjoy a late night party with a costume contest, danceable music and cocktail specials. 21+
Family Friendly Halloween Events
Eliada Home Fall Festival and Corn Maze | September 30 - October 30 (Fridays - Sundays) 
This family-focused event includes a small corn maze, a corn cannon, bouncy pillow, hayrides, a straw maze and a number of other activities for kids to enjoy. The cost is $12 per ticket and proceeds help fund Eliada's mission to help children succeed. 
The Haunted Trail at Adventure Center of Asheville | October 6-7, 13-14, 20-22, 27-30
Bring the kids to this family-friendly haunt at the Adventure Center of Asheville. Walk a haunted trail filled with live actors, Halloween lights, spooky sounds and funny jokes. Then climb the aerial Glow Trail as they light up the night with two trails at the Treetops Adventure Park. Geared towards families with kids ages 3-13.  
Junior Wolf Howl-O-Ween | Oct. 31
Spend your evening at Asheville's WNC Nature Center for an exploration of biofacts, animal games, and an opportunity to meet a live animal, followed by a trek to our wolf habitats located onsite at the Nature Center for a howling session. Discover the legends and lore of these top predators and celebrate the spooky season with some sweet treats. Recommended for kids ages 5-12.
Black Mountain Old Depot Art by the Tracks in Black Mountain | October 28
Enjoy some art by the tracks this year in Black Mountain for a family-friendly art-tastic day of fun featuring over 50 artists from the local region, as well as live music.
Halloween-Themed Classes at the Black Mountain Center for the Arts | October 16 - October 27
The Black Mountain Center for the Arts has a fun lineup of Halloween-themed classes in the leadup to the holiday, including "Make Your Own Cemeterrarium," "Dark Arts: Making Collographs," "Thriller Spiller: Classic Choreography with Claire", and "RIP Yoga." 
For those willing to brave the witching hour, experience a one-of-a-kind night drive along the Blue Ridge Parkway, stopping at overlooks long the way to enjoy a midnight snack. Explore the twists and turns in the heart of the mountains under the moon and let adventure be your guide. 
As the autumn winds sigh through the streets, seek refuge in the warmth of Asheville's cozy coffee shops with a tasty fall drink. Spots like Double D's, where delicious sips await inside a red double-decker bus, or cozy PennyCup Coffee Co. on the Block, are the perfect places to spend an afternoon. Savor a cup of liquid gold with a cup of cinnamon-laced cappuccino or a pumpkin spice latte.
Get your hands dirty and feel the earth beneath your feet as you select the perfect pumpkin or pluck a crisp apple. Farms near Asheville, like Stepp's Hillcrest Orchard and Justus Orchard, offer both pumpkin and apple adventures. 
Wind your way through Asheville's many neighborhoods this fall with this family-friendly guide. Take an electric tour of downtown, explore the vibrant River Arts District or find peace in laidback Fairview. There are plenty of ways to make the most out of your visit here in the Blue Ridge Mountains. 
Asheville's arts scene comes alive with Halloween-themed performances this time of year. Get involved in "The Splatter Play!" at the Magnetic Theatre or jump right into a world of wonder with "Wonderland Legacies: Alice's Adventures in Murderland" with the Montford Park Players.
Occult Stops and Shops
Glimpse your future through a tarot reading, or tap into your own mystical potential at an Asheville occult shop.
Enjoy some animal cuddling-time and therapy with a visit to House of Black Cat Magic, an occult supply store that doubles as a black cat lounge in West Asheville. The shop is partnered with Binx's Home For Black Cats, so you might walk away with a new familiar when you visit!
Peek into your future with a tarot reading at Earth Magick in downtown Asheville. This local occult supply store offers products from simple incense to tinctures, plus readings from experts with over 60 years of combined experience. Or, venture further north to Raven and Crone, an old age metaphysical supply store with locally-made products and all you need for the season.
If you're looking to gain new insights into your aura, visit Adoratherapy in the Grove Arcade. Combining technology and intuition, Adoratherapy offers Auratherapy, where professional aura readers reveal your aura personality and chakra health. 
Embrace the harvest season at Asheville's farmers markets, where you can savor the flavors of fall with fresh, local produce and handmade crafts. You'll be shopping alongside chefs from the best city restaurants like Sovereign Remedies and The Market Place, just to name a few. 
Fall is an especially great time to experience these locals markets. Tailgates and roadside stands are stocked with edible and decorative gourds, autumn harvest arrangements and wreaths, various vegetables and more than enough jarred and packaged goods.
More Fall Events
Enjoy time in Asheville and celebrate the spooky season with some extra fun fall events: 
As you navigate the magic of Halloween in Asheville, remember that the season is not just about the spooky and the supernatural. It's about celebrating the beauty of transition, the richness of tradition, and the enduring sense of wonder that the mountains impart.
Updated October 12, 2023