How to Experience The Holidays in Asheville in 2020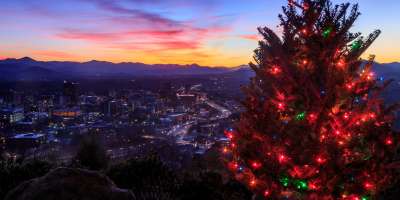 Things to do during the holidays in Asheville
From the holiday grandeur at Biltmore to a new drive-through light show experience, Asheville has earned the distinction as one of the nation's top holiday destinations.
With your health and safety as a top priority, Asheville's holiday traditions have adapted for 2020. Celebrations, attractions, restaurants and shops are open and have taken important precautions as part of the Asheville Stay Safe Pledge to give you peace of mind as you experience the joy of the holiday season in the Blue Ridge Mountains. As part of that shared commitment to health and safety, please follow North Carolina state guidelines: Wear a mask inside public places and outdoors when social distancing isn't possible.
Here are the top holiday experiences in Asheville in 2020.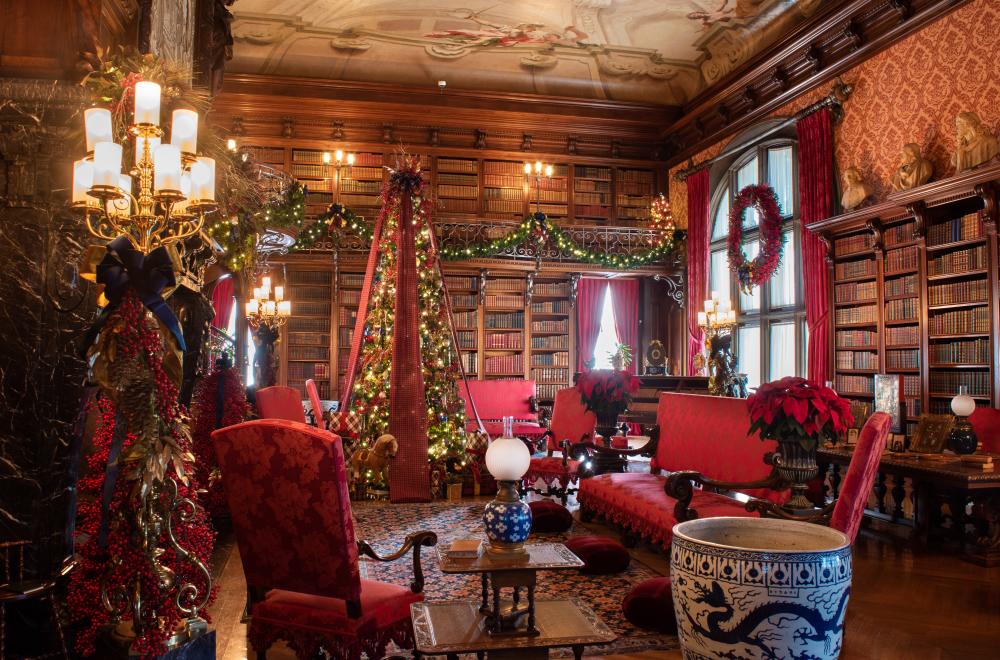 This time-honored holiday tradition takes on special meaning this year as Biltmore celebrates its 125th anniversary. It was on Christmas Eve in 1895 when the Vanderbilt family actually opened the doors of Biltmore House for the first time. This year's stunning decorations are based on inspiration from the Estate's archive of oral histories, newspaper articles, letters and menu books to help you experience Biltmore House as it was on that first Christmas Eve. Marvel at the more than 100 hand-decorated Christmas trees, 25,000 ornaments, 100,000 holiday lights, nearly 6,000 feet of garland and 1,200 poinsettias gracing the house and estate. In the evenings, see Biltmore in a different light. Take a tour of the house by fire and candlelight during Candlelight Christmas Evenings. Hand-lit luminaries line the walkway into the house where musicians are stationed performing seasonal favorites. The front lawn is a sight to behold with its 55-foot Norway spruce encircled by 36 illuminated evergreens. See our complete guide to Christmas at Biltmore for more information. 
Biltmore has adapted estate experiences for 2020 by limiting capacity, requiring face coverings and reservations for tours of Biltmore House. Face coverings are required in all estate buildings. They have also enhanced their stringent disinfection procedures in accordance with CDC and industry guidelines. Learn more about Biltmore's committment to taking important health and safety precautions.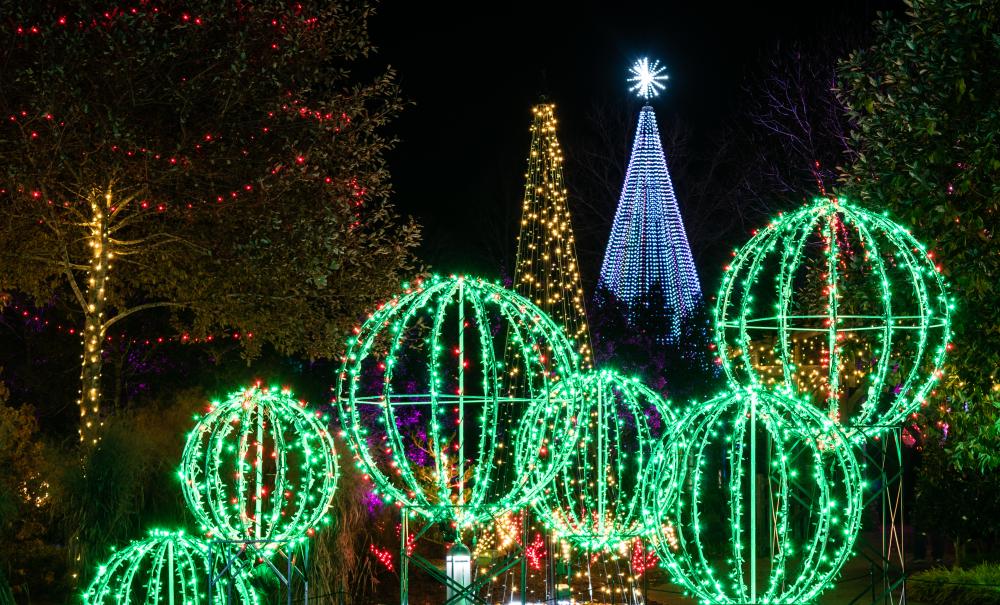 From the comfort and warmth of your car, experience a sparkling winter wonderland at The North Carolina Arboretum. For the first time as part of Winter Lights, you'll have an opportunity to take a dreamy ride through this enchanted forest, which is inspired by the the designs of the famed landscape architect Frederick Law Olmsted. The mile-long stretch of lights will illuminate the natural landscape. The displays will feature colorful native butterflies and winter wildlife displays, as well as a special insect-themed lantern exhibit. See our complete guide to Winter Lights at the North Carolina Arboretum for more information.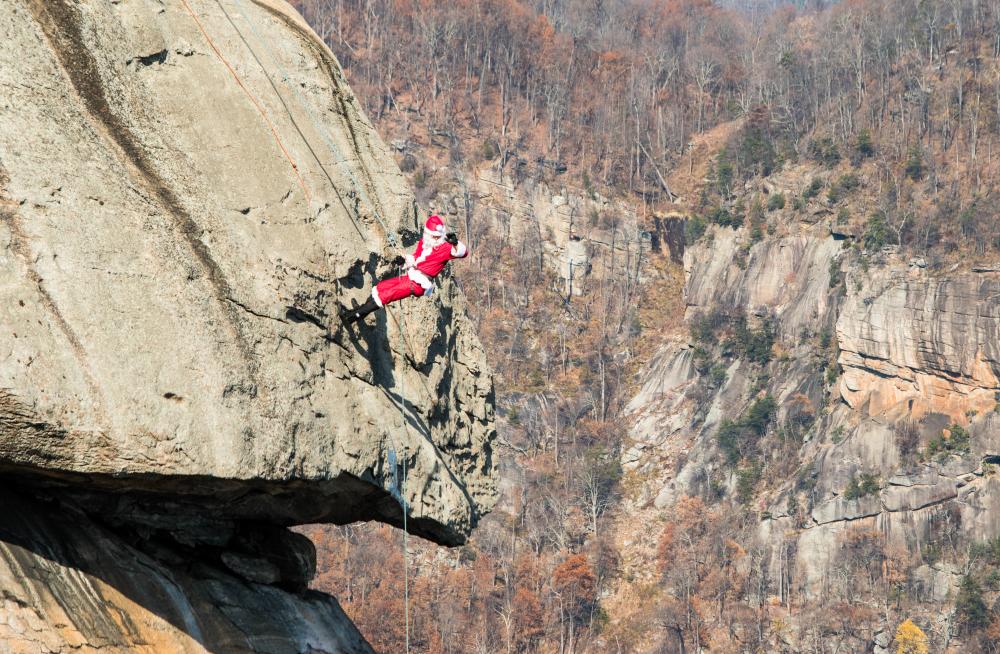 Before his big night, Santa practices his chimney rappelling skills at Chimney Rock at Chimney Rock State Park! And, you get the opportunity to watch as Santa rappels down this 315-foot, 535-million-year-old monolith. With social distancing in mind, Santa on the Chimney festivities will be outdoors. To keep warm, purchase hot cocoa and cookies. Local poet Eddie Cabbage will be helping children get ready for Christmas by typing up their wish lists on his vintage typewriter. See our complete guide to Santa on the Chimney at Chimney Rock State Park for more information.
Deck The Trees in Black Mountain, NC
December 3, 2020 - January 4, 2021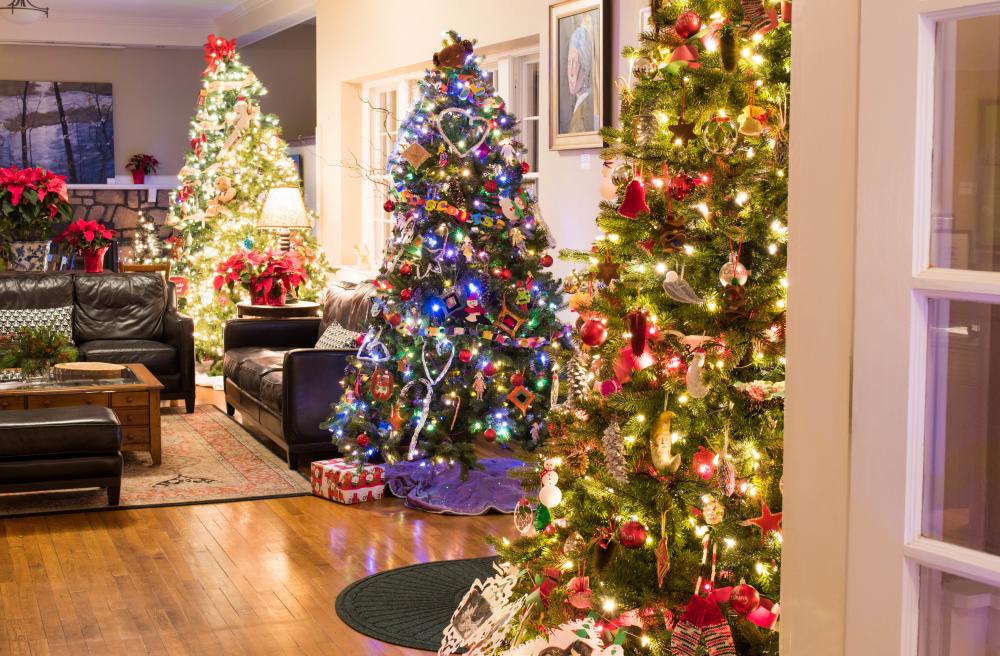 Hosted by the historic Monte Vista Hotel, Deck the Trees celebrates its 10th year by expanding into beautiful downtown Black Mountain. Black Mountain, an artsy, main-street mountain town, is just 20 minutes from Asheville. The hotel will feature 12 trees in its lobby. And, for the first time, an additional group of trees (18) can be found at businesses throughout downtown. The trees are decorated to match this year's theme, "And a Star Appeared." This expansion of trees into the downtown businesses allows for social distancing, and gives you the opportunity to discover one-of-kind gifts at independent, local shops!
Rabbit Rabbit is a brand new, outdoor venue located in the growing South Slope district (just a couple blocks south of downtown Asheville). The venue was created by Asheville favorites the Orange Peel and Asheville Brewing Company. Rabbit Rabbit's outdoor space has transformed into a Winter Wonderland, a socially-distant holiday experience with lights and decorations. As part of the experience, enjoy a holiday-themed cocktail menu, holiday movie screenings and inflatables. Take your festive spirit to the next level with their Christmas sing-a-longs, silent disco nights and visits from Santa. 
During the special evening Treetops Adventure Park climbs, watch the world transform from dusk to night while climbing in the trees. Trails will be illuminated to give climbing the obstacles a new perspective. More than 15,000 colored lights, plus colorful lasers sparkling on thousands of leaves, cables, rope, and platforms throughout the park will create a mystical tree climbing experience like you can't imagine. For ages 4 and over!
Lake Julian Festival of Lights
December 1 - December 23, 2020
Head to south Asheville to take an evening drive through Lake Julian Park. This family-friendly experience is now in its 20th year. Not only will you experience the lights but you'll be helping a great cause. Twenty percent of the proceeds from the $10 a vehicle admission go toward supporting the Special Olympics in Buncombe County. Purchase your tickets online this year.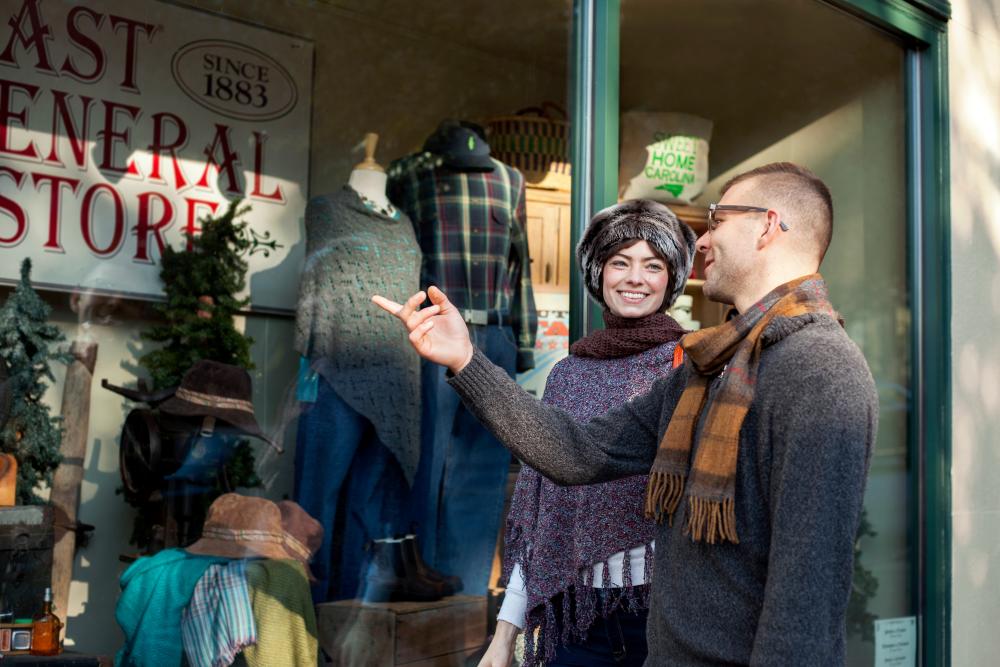 Downtown Asheville is home to local, indepedent shops, restaurants and galleries that give the city its identity as a cultural and culinary hub. During Small Business Week (November 21-28), many of these small businesses will offer special deals and raffles. 
As you stroll downtown, keep an eye on the storefront windows! Beginning on December 1, many downtown businesses will take part in a holiday window decorating contest. 
Winter Wonderland at the Historic Grove Arcade
November 24, 2020 - January 4, 2021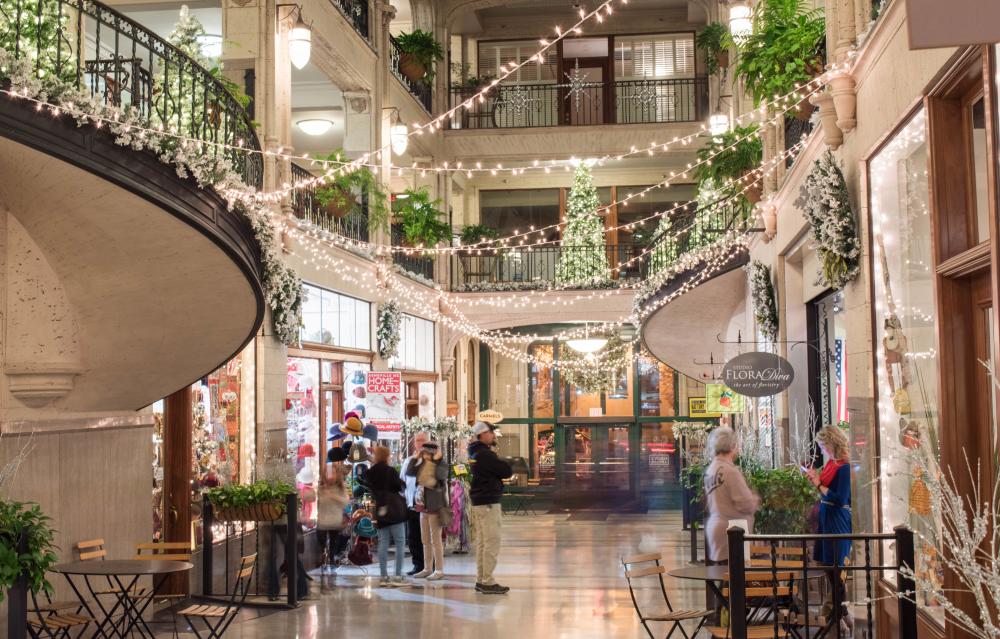 Discover unique holiday finds at the shops in the gorgeous Grove Arcade during its Winter Wonderland celebration. The Arcade has transformed into a wreath-bedecked showcase for some of Asheville's finest local craftspeople and retailers. Smells of pine and holly will greet visitors as they tour — at a proper social distance — Asheville's stunning art deco gem to discover local gifts.  Enjoy holiday-themed beverages and dining specials. Specially curated Christmas standards and the most extravagant holiday decorations in town will transport visitors to a truly unforgettable winter paradise.
For the enjoyment and safety of everyone, Grove Arcade will be taking appropriate COVID-19 precautions during Winter Wonderland. All visitors and employees will be required to follow the CDC's health recommendations, including social distancing and mask wearing. Please note: the photo above was taken during a previous year.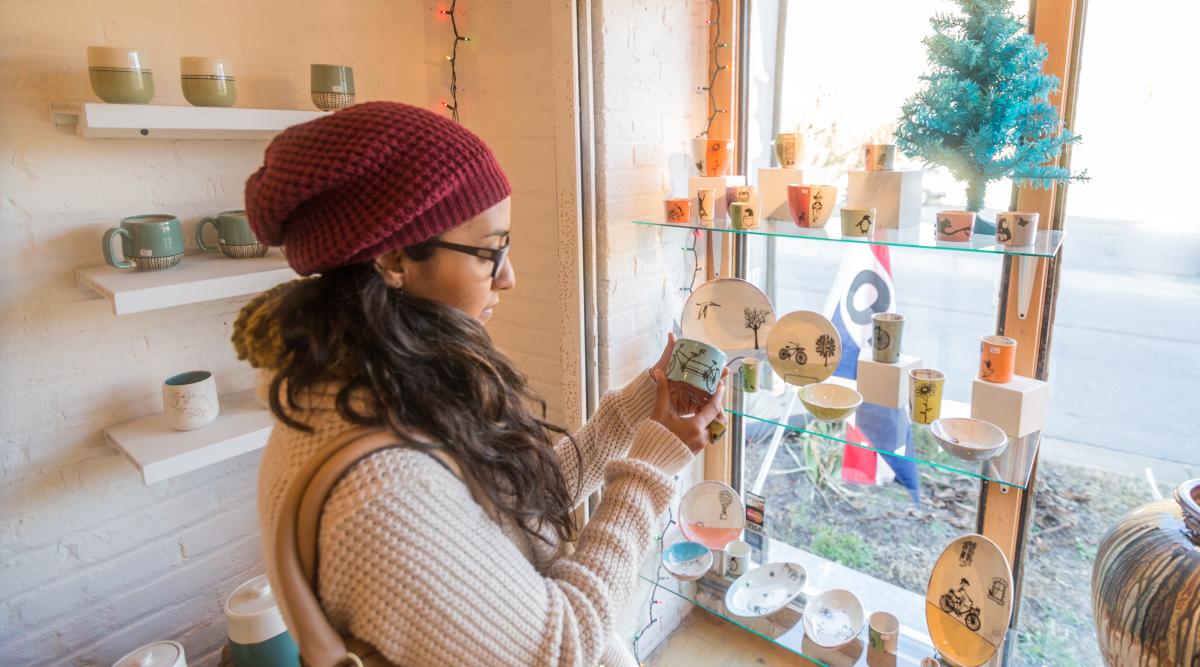 With the breathtaking backdrop of the Blue Ridge Mountains that has long inspired local artists and and entrepreneurs, it's no wonder Asheville is known for its wealth of one-of-kind shopping finds. Working artist studios, artist galleries and colorful boutiques featuring locally-made wares can be found on nearly every corner of Asheville. Do remember to bring your mask -- you'll need to wear it to be able to explore these beautiful shops. See our guide to Asheville's shopping districts to begin planning your holiday shopping adventure!
In addition to a wealth of local, independent shops, you'll find a series of holiday markets designed to help you pick out special gifts for everyone on your list. Plan ahead for markets like the North Carolina Glass Center's Annual Seconds Sale (Nov. 27-29), CURVE Studios Holiday Market (Dec. 12) and Biltmore's new Christmas Pop-up Shop (located in the Legacy at Biltmore building on the Estate).
And, shop Asheville from home! Check out our Asheville Holiday Gift Guide to explore more than 50 unique, locally-made Asheville gifts from some of the area's best makers. We'll be highlighting these gifts on our @VisitAsheville Instagram story throughout the season.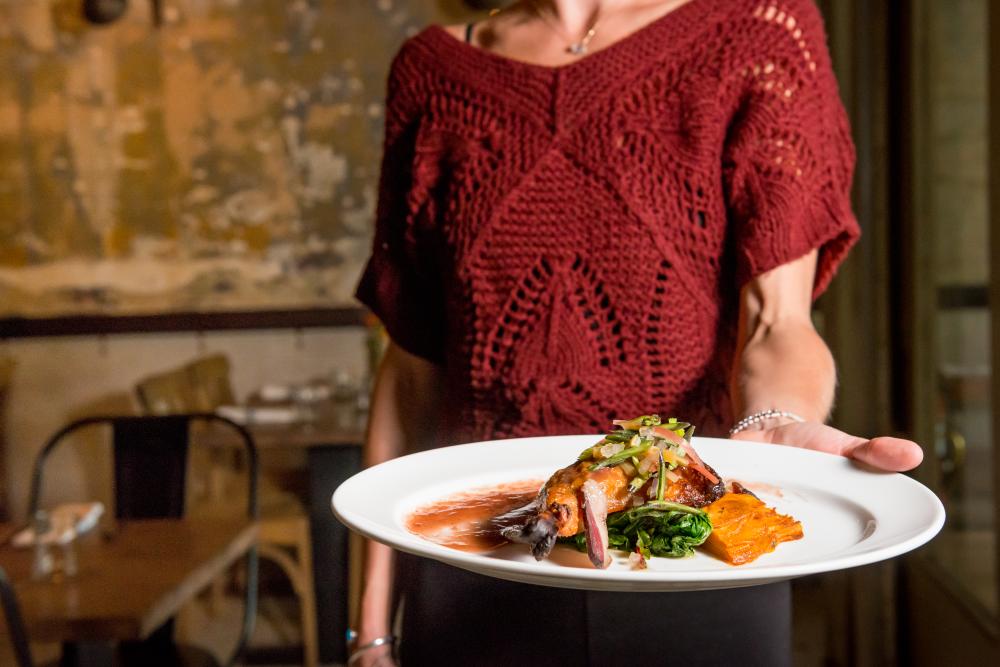 Asheville is known for its incredible local dining scene, lovingly referred to as "Foodtopia." While experiencing Asheville during the holidays, treat your taste buds to delicious dishes carefully crafted by creative chefs.
Looking for a restaurant open on Thanksgiving, Christmas or New Year's? Our friends at the Asheville Independent Restaurant Association have put together this list of restaurants offering either dine-in service or takeout on holidays.
For outdoor dining, see our updated list of Asheville restaurants offering outdoor dining this winter.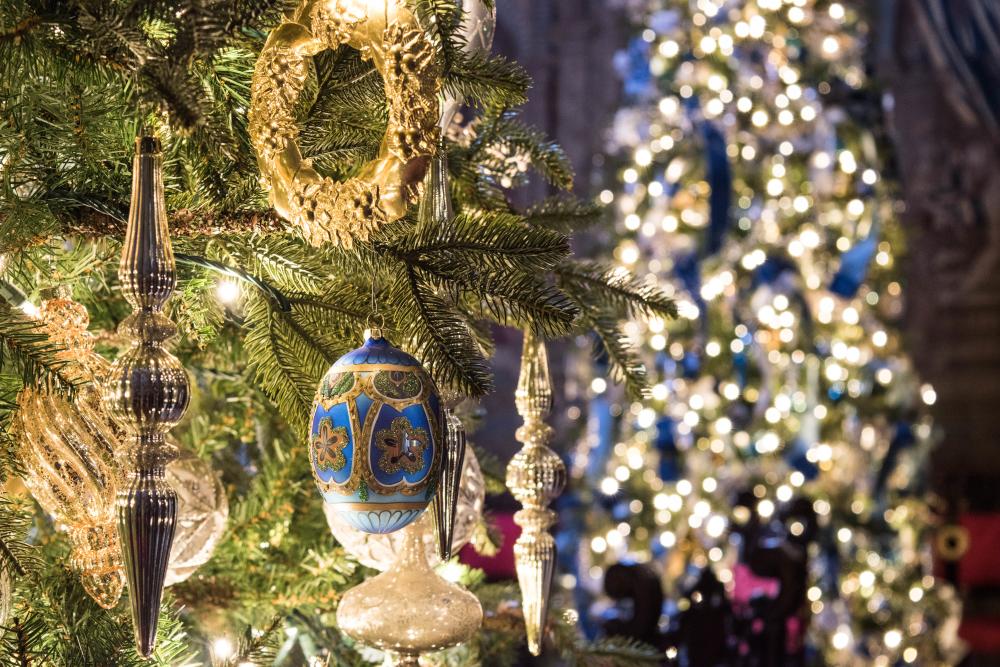 Package your holiday activities together with accommodations in Asheville to help enhance your experience.
As the weather gets cooler, enjoy s'mores on the terrace of Pinecrest Bed & Breakfast with their Fire up the S'mores package. The package includes a fire-starter, hardwood, skewers and all the fixings for a delicious evening.
Spend the night at the luxurious Inn on Biltmore Estate and receive one-night admission and audio guide to Candlelight Christmas Evenings with their Candlelight Christmas package. In addition to admission, guests will receive breakfast in the dining room and a special Biltmore Christmas gift.
Take in the history and lavish holiday decorations of the Omni Grove Park Inn with the Holiday Mountain Memories package. Enjoy the Art of Breakfast Buffet in the Blue Ridge Dining Room in addition to a Gingerbread cookie per registered guest.
Virtual Asheville Holiday Experiences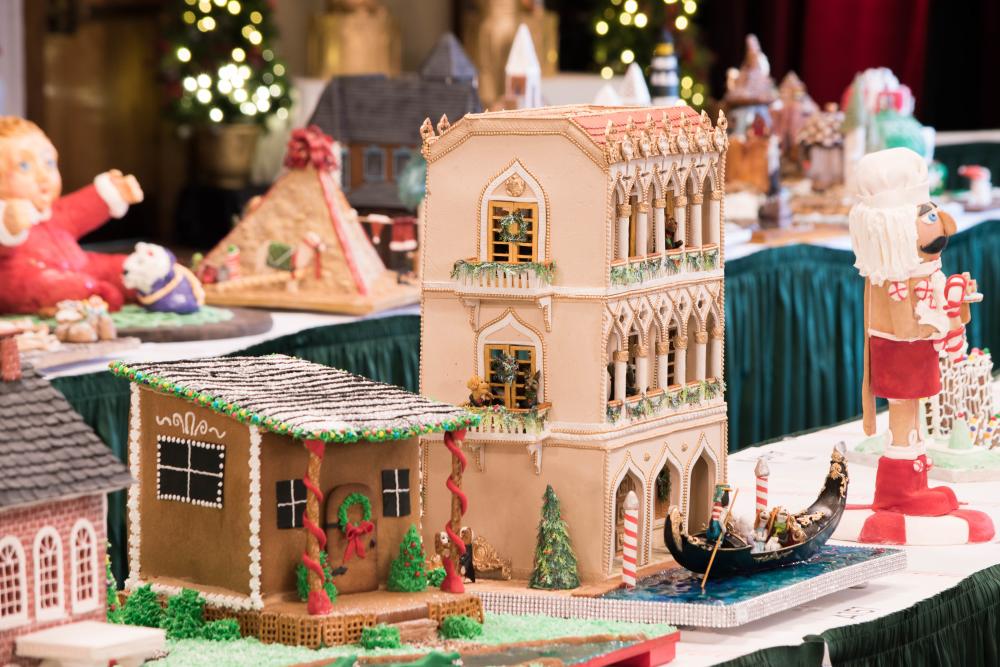 Experience the Blue Ridge Mountains from home thanks to unique new virtual offerings headlined by the Omni Grove Park Inn's National Gingerbread House Competition.
This year, the competition is prioritizing health by hosting a virtual display. While there won't be a physical display of the winners this year, gingerbread fans can enjoy whimsical creations like sugar-spun landscapes and candy-covered cabins and castles from the comfort of home. During 12 Days of Gingerbread, Omni Grove Park Inn will announce one gingerbread house winner per day December 1-12 on the resort's Facebook and Instagram pages. The grand prize winner will be announced on National Gingerbread Day (December 12). Entries will be judged by a renowned group of food, arts and media professionals, including Food Network star Carla Hall! In addition to the virtual display, you can learn how to make gingerbread houses from the gingerbread masters themselves. Check out the new Baking Spirits Bright: A Gingerbread Making Class Series, a three-part online class featuring all-star chefs and competition judges, including Chef Carla Hall. If you purchase the classes, you'll receive 15 percent off future stays January through March of 2021.
And, in addition to the Asheville Holiday Gift Guide here on ExploreAsheville.com, popular Asheville craft markets have shifted to an online format this year. Don't miss the special online Show & Tell Holiday Pop-up Shop (November 1, 2020 through January 10, 2021) and a "Party in the Stories" event from The Big Crafty (starting December 6).
Updated December 10, 2020