High Elevations Reaching Peak Conditions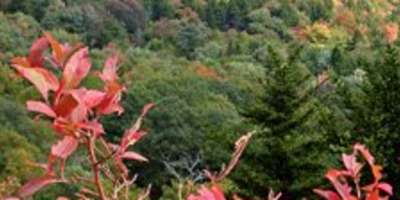 The days are still warm but the nights are getting chilly here in Asheville, which means that a significant wave of color change is due to arrive soon. We're waiting for a cold snap to crystallize the color, as it did at higher elevations. The frost up in the mountaintops has triggered peak conditions, which can be seen now.
Early Fall Color
Sourwoods and dogwoods continue to display brilliant red leaves while black gums and persimmons are ablaze with a fiery reddish-orange. The Virginia creeper is at its peak, winding up trees and draping the forest with intense red vines. Staghorn sumacs have been in transition during the past week, adding their own blend of orange and red to the early fall collection.
Mountaintops
The brightest colors can be found above 5,000 feet on south-facing slopes that are coming alive with reds and yellows. A drive along the Blue Ridge Parkway would be an excellent way to find the best color-filled views. Grandfather Mountain (milepost 304), Graveyard Fields (milepost 419), and Richland Balsam (milepost 431) are all full of color. In fact, Richland Balsam offers a panoramic view of pure autumn glory. The Scheer Bluff overlook at Grandfather Mountain also offers a particularly nice view. Within Julian Price Memorial Park (milepost 296), Sims Pond and Bass Lake provide beautiful settings to enjoy the color. Mount Mitchell, the tallest peak east of the Mississippi River, is just about to peak and is bursting with orange and yellows.
Wildflowers Still Blooming
North Carolina wildflowers are still in bloom. Goldenrods and asters are holding strong with yellow, lavender, and cream. Black-eyed susans and orange turk's cap lilies also continue to offer their yellows and jaguar-spotted oranges.
Brilliant Bonsai
See tiny trees with big fall color. The North Carolina Arboretum hosts a unique perspective on autumn during the Southeast's premier annual
Carolina Bonsai Expo
on Saturday, Oct. 11, and Sunday, Oct. 12. Now in its thirteenth successful year, the Expo features juried exhibits by bonsai enthusiasts throughout the Southeast, as well as unique workshops, demonstrations, and a popular bonsai marketplace.
Updates
Make sure to check back each week for updates on where to find the best color in Western North Carolina. And as you're out this fall in the Asheville area, share your fall photos with us.
Insider Tips
Fall Harvest Tailgate Flavors of the Week: At the markets this week you will find everything you need for the perfect autumn cornucopia, from pumpkins to winter squashes and decorative gourds. Apples are still in season. Winesaps, romes, mutzus, and ginger golds are just some of the local varieties at area markets.
Budget Tip: If you already know how much you're able to spend on a fall vacation, check out our fall budget itineraries to see just how far you can stretch your dollars in the Asheville area.
October 9, 2008