Grove Park Inn Turns 100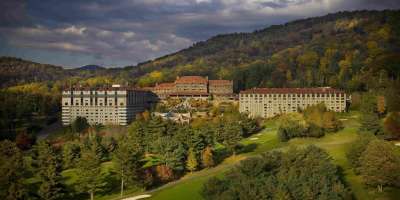 Built For the Ages: Grove Park Inn Remains a Historical Icon for Asheville.
This year, the Grove Park Inn has reached a milestone - 100 years since the doors first opened, this historical gem remains one of the nation's most acclaimed resorts. Centennial celebrations are planned throughout the year so be sure to book your room now to secure a seat during one of their popular themed-weekends.
Music & Entertainment: The Centennial Concert Series is a year full of themed-weekends. Big Band/Swing, All That Jazz, Celtic Adventures and the Comedy Classic are among the most well attended, so it bears repeating that you should reserve your seat/room early. 
Food and Beverage: Focusing on Grove Park's long tradition of farm-to-table cuisine, the Inn will host The Centennial Celebrity Chef Summer Series. The series will feature guest celebrity chefs and their personally designed menus, farm tours with the Inn's chefs and book signings with new cookbook authors. Finally, Turn Back Time as You Dine with the retro inspired menus created from the inn's original 1913 courses.
Health & Wellness: The 43,000-square-foot subterranean spa will feature a series of health and wellness events. Incorporating nationally acclaimed wellness authors and teachers, as well as spa cuisine cooking demos, each event will include spa treatments and health and wellness consultations. In addition, Nantahala Outdoor Center (NOC), which has a satellite location at Grove Park Inn, will offer an exclusive series of guided rafting, zipline, hiking and mountain biking adventures.  
Specialty Packages:
Join the centennial celebration of The Grove Park Inn with the We're Turning 100 Together package. The resort will extend two nights of accommodations inclusive of daily breakfast and dinner complimentary to anyone celebrating 100 in 2013. Those under 100 can still join in of the fun with the Once in a Lifetime Centennial package including a limited-edition resort book and guest inclusion in the centennial time capsule. In addition, the historic inn will continue celebrations into its birthday month with a grand celebration on the Fourth of July Weekend.
For package reservations or more information about the Centennial Celebration at The Grove Park Inn, please contact 800-438-5800; email bookit@groveparkinn.com; or visit www.groveparkinn.com 
January 8, 2013