Grammy Nominee Performs in Asheville This Sunday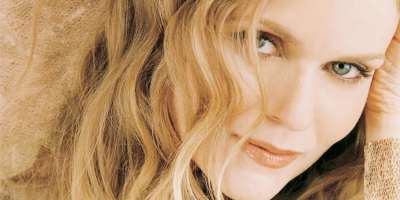 Three-time
Grammy
Award Nominated Vocalist,
Tierney Sutton
is coming to
Asheville
this Sunday, June 5th starting at 7:00PM at the
Diana Wortham Theatre
in
downtown
. This performance is a part of the
Western North Carolina Jazz Society's
2011 Season.
From the WNC Jazz Society
Website
:
In 2009 The Tierney Sutton Band received its third Grammy Nomination for Best Vocal Jazz Album for the acclaimed recording, Desire. This nomination is the latest honor to come from a 17-year collaboration that garnered a JazzWeek Award for Vocalist of the year, consecutive nominations for Jazz Journalist Association Awards, multiple top-rated recordings on jazz radio, and critical praise throughout the world. The cumulative respect that Tierney and her band have earned is reflected in the JazzTimes magazine review of Desire: "Given their impeccable track record, it comes as no surprise that all vocalizing and instrumental accompaniment is accomplished with the utmost discernment and skill."
Tierney Sutton brings a unique touch to the jazz vocal tradition. It's partly musical. Sutton has amazing chops, evident as she twists and turns her way through supercharged tempos. Like all great improvisers, she artfully rearranges melodies so that you hear "Surrey with the Fringe on Top" or "Fly Me to the Moon" in a new way. She keeps audiences guessing with surprising rhythmic changes, and pulls listeners into her own private space with an emotionally potent take on ballads.
A concert by the Tierney Sutton Band is an experience of rare and powerful harmony achieved by humble musicians who are at the top of their game. Comprised of pianist Christian Jacob, bassists Trey Henry and Kevin Axt, and drummer Ray Brinker, the band has headlined at Carnegie Hall, The Kennedy Center, The Hollywood Bowl, and Jazz at Lincoln Center. They have recorded eight CD's to increasing recognition and acclaim. Business Week hailed 2007's On the Other Side as "a masterpiece…eloquent, honest, and magnificently sung and played." Dancing in the Dark, released in 2004 and focused on the music of Frank Sinatra, was hailed in the All Music Guide: "The music may have been inspired by Sinatra, but, in her own way, Sutton has gone beyond her inspiration."
Tickets are $25 for members of the Jazz Society, $30 for non-members and $10 for students with school ID under 25. A pre-show reception will begin at 6:15: snacks and beverages for sale, courtesy of Diana Wortham Theatre. Guitarist Dan Keller's Trio will perform and set the tone for a great evening of music.
June 3, 2011