Get Your Plaid On!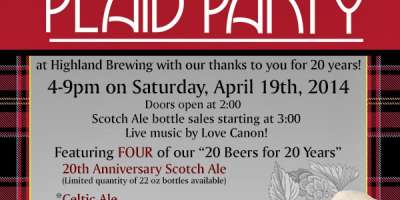 Highland Brewing celebrates 20 years with 20 beers
North Carolina Beer Month kicks off on April 1, and in preparation for this month-long celebration of craft brews, we will be sharing some of Asheville's top beer news. Cheers!
When retired engineer Oscar Wong started Asheville's oldest craft brewery in 1994, there were only about 500 such breweries in the nation. Oscar was working out of the basement of a downtown pizza restaurant and was using mostly retrofitted dairy equipment.
Twenty years later, the number of U.S. craft breweries has exploded to about 2,800, and Oscar's
Highland Brewing Company
is one of the largest brewers in the Southeast--and poised for a major expansion. Needless to say, there is a lot to celebrate!
Highland is celebrating their silver anniversary in high style, releasing 20 limited edition beers,  including 10 from their own archives and three collaborations with other area breweries.
Look for the first four limited release beers at Highland's Plaid Party on April 19th. The brewery's offical birthday party will feature live music and plenty of pints.
And there's more to look forward to at Highland this spring and summer! In July, the brewery will host a 4-mile race called the
Night Flight
. This evening run will conclude with glowing pints of beer, including another limited release. And don't forget the regular
concerts held at Highland's tasting room and outdoor stage
.
Learn more about Asheville's local brews.
March 28, 2014