Gallery Walks Bring Downtown Art to Life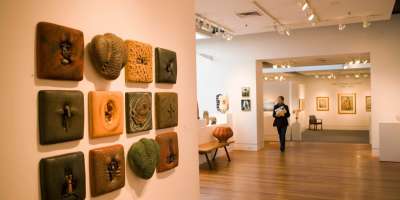 Monthly art walks kick off new season
This week marks the start of the
Downtown Asheville Art District (DAAD) 2014 First Friday Gallery Walks
. A tradition helping locals and visitors alike start off each new month with a visual feast, these walks celebrate the arts' significant contribution to downtown Asheville's renaissance.
More than 25 diverse fine-art and studio-craft galleries, as well as jewelry designers, call downtown home, and all are located within half a mile from Pack Place in what is truly a walking city. Local, regional, national and international artists will have their work on display, including photography, folk art and contemporary painting, metalwork, textiles and more!
"Blushing Fellow" by Kim Ellington
Here's what some of the galleries will have going on:
Transforming Asheville into a vibrant urban-arts community has been decades in the making, with art--from the abundance of galleries to the Art Deco architecture--having played an important role in turning the town into "The Paris of the South."
To see for yourself what Asheville's current art scene has to offer, don't miss these free walks, which take place the
first Friday of each month (April 4 through Dec. 5) from 5-8 p.m.
While in downtown, be sure to grab an early dinner before (or a late meal after) at one of
Asheville's acclaimed restaurants or breweries
!
Discover Asheville's diverse art galleries.
April 3, 2014