From Harlem to Asheville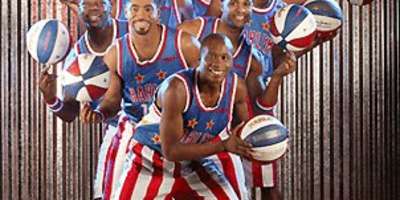 The
Harlem Globetrotter's
(cue the whistling Sweet Georgia Brown theme song) are making their way to
Asheville
this Saturday, March 27 at 3:00 PM. Head over to the
Asheville Civic Center
to watch this legendary basketball troupe in action. A perfect event for kids and adults alike, the Globetrotter's have been entertaining audiences for 84 years and counting.
The team originally started out in south Chicago during the 1920's as the Globe Trotters. To give the team a better identity they added Harlem to the name in 1929, but even then it wasn't until 1968 that they played their first "home" game in the New York City borough. Despite their incredible record of wins (over 8,000), the team has changed over the years from competitive basketball to more of an entertainment exhibition. They have had their own feature film and numerous television cameos including Gilligan's Island, the Simpsons, and Futurama.
Tickets are still available to enjoy the antics of the
Harlem Globetrotters
. Prices range from $29 to $79 and are available
here
.
March 21, 2011