From Disney to Asheville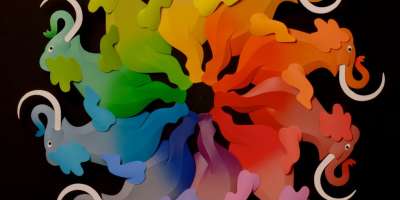 Former Disney Art Instructor and Mountain Resident, Leo Monahan, Presents New Exhibition.
In conjunction with American Craft Week,
Grovewood Gallery
in Asheville will host a solo exhibition featuring the work of internationally known paper sculptor Leo Monahan.
Cut, Bend, Fold, Color: Paper Sculpture & Collage in Dimension
opens on October 6 and will feature Leo's unique style of intricate reliefs that blend impressionism and surrealism. 
Each piece is made entirely of white paper that has been cut, creatively colored and then assembled. This exhibition will feature unique, one-of-a-kind paper sculptures of mask-like faces from the past, color wheels, and still life scenes and landscapes comprised of vibrant boats, plants, birds, butterflies and more. Opening artist's reception will be held Saturday, October 6th from 4 – 6pm and will include a retrospective talk, a paper sculpting demonstration, and live music provided by Bruce Lang. Light hors d'oeuvres will be served. 
Leo was born in 1933 in the Black Hills of South Dakota. For the most part his artwork is based on his memories of life as a young boy at the foot of Mount Rushmore in the Black Hills - a life peopled with miners, loggers, cowboys, farmers, and the Sioux Indians. Since relocating to Barnardsville, NC, his art has also been influenced by his new surroundings, particularly autumn in this region. 
Leo received the first Walt Disney art honor scholarship, allowing him to study fine art at the Chouinard Art Institute. In 1960, he began his career as a graphic designer and completed his first paper sculpture. Leo has created cover art for over 1,200 albums and his work has been used by numerous clients in publishing, advertising and promotion. In 1987 he closed his design business and then worked solely as a paper sculptor, illustrator, and fine artist. 
Leo has earned numerous professional accolades including a "Lifetime Achievement Award" from the Society of Illustrators in Los Angeles (their highest honor) and has a paper sculpture in the Smithsonian's permanent collection. Leo is a member of the Society of Illustrators of Los Angeles and New York, the Southern Highlands Craft Guild, a 45-year participant of the U.S. Air Force documentary art program, as well as founder of the Los Angeles County Sheriff's documentary art program. 
He has taught at Chouinard Art Institute, California Institute of Art, Tokyo Communication Arts, and the Chouinard Foundation. For nearly fifty years Leo taught color to Disney employees and was an independent contractor for Disney amusement parks. In his later years, contracting for Disney, he was creating paper sculptures that were then measured, digitized, and through Computer-Aided Design became large-scale metal figures that you may have seen at Disney parks. 
October 5, 2012