Fourth of July Events and Fireworks in Asheville, N.C.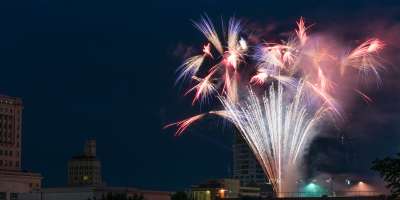 How to Celebrate Independence Day in Asheville
Asheville takes great pride in celebrating our nation's Independence Day. From festivals to parades to fireworks, Asheville has a blast celebrating the Fourth of July here in the Blue Ridge Mountains.
See a full list of events taking place on Fourth of July weekend.
Below, find information about fireworks and other large celebrations in and around Asheville.
Fourth of July Fireworks in Downtown Asheville
There's something special about watching fireworks burst over the twinkling skyline of downtown Asheville that keeps families coming back on Fourth of July year after year.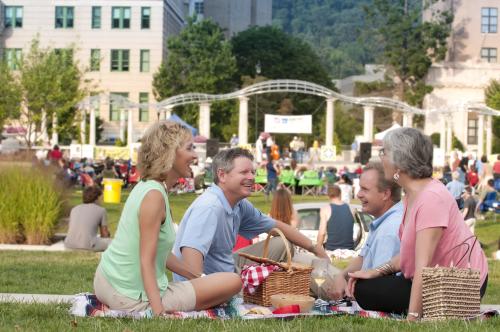 In 2022, the Ingles Independence Day Celebration returns to downtown Asheville on Monday, July 4 in Pack Square Park. This free event features family-friendly activities and live entertainment throughout the day, with a fireworks display beginning at approximately 9:30 pm. Activities include:
Ultimate Air Dogs -- official jumps will occur at 1 p.m., 3 p.m. and 5 p.m., with practice and registration occurring from 12 to 4 p.m.
The Splasheville Fountain is expected to be running on the Fourth of July until 7 p.m. to give kids a space to cool off and splash about.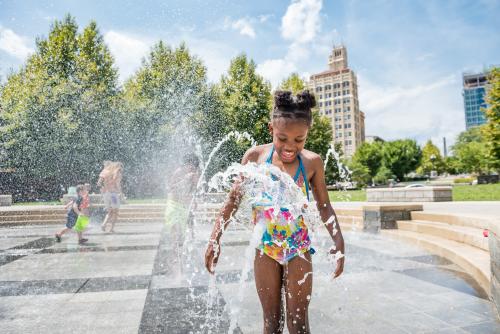 Live Music - Kicking off the live music at 5 p.m. is Asheville's own, Hannah Kaminer. Hannah fuses echoes of Appalachian traditions with wistful, Americana-style songwriting. Country artist, Ricky Gunter, who hails from nearby Marshall, will then hit the stage at 6 p.m. Rounding out the evening will be Asheville's renowned busker turned artist, Lyric, at 7:30 p.m. She will also perform the national anthem at the fireworks extravaganza at 9:30 p.m.
Food and beverage vendors will open at 5 p.m. 
No tents or cooking are allowed. Also, no alcoholic beverages are permitted. Pets are not permitted within the special event boundaries; certified service animals are allowed.
Tips from the locals: The fireworks can best be seen from Pack Square Park. There are also some good spots along N. Spruce Street near the intersection with College St. Arrive early and bring a chair or blanket to sit on. Parking is available in the parking decks, on the streets and in private lots. 
The Renaissance Asheville Hotel will also host a fireworks viewing party in their parking lot with American cookout food and beverages available for purchase. There's no cost to enjoy this event.
South Asheville Fireworks Over Lake Julian
One of the largest fireworks shows in the area happens over the calm water at Lake Julian Park in south Asheville. The fireworks display begins at dark approximately at 9:15 p.m., but visitors should arrive by 7:45 p.m. to allow enough time for parking and entering the park. The park opens at 8 a.m.
Arrive early and enjoy all the park has to offer including disc golf, cornhole, sand volleyball, playgrounds, fitness courses, horsehoes, picnic tables and grills (available on a first-come, first serve basis). Food trucks will be on-site throughout the day and live music will be playing throughout the afternoon and into the evening.
An accessible boat launch is available for private craft including fishing boats, canoes, kayaks, SUPs, and sailboats for a fee of $8. Paddle boats and water trikes can be rented for $12 per hour. All boats must be off the water by 8 p.m.
Alcohol and tobacco products are prohibited on the grounds of Lake Julian.
Tips from the locals: Park in the lot for Estes Elementary across from Lake Julian Park (parking is not permitted at the Lake itself on July 4th). Shuttles will operate from 8 a.m.-6 p.m. from the Estes parking lot. Limited parking is available at the Lake Julian Trail Greenway in the gravel lot adjacent to Wild Wing Café. Also, bring a jacket or a sweater! Evenings can be cool at the lake, even in July!
Weaverville Downtown Party and Fireworks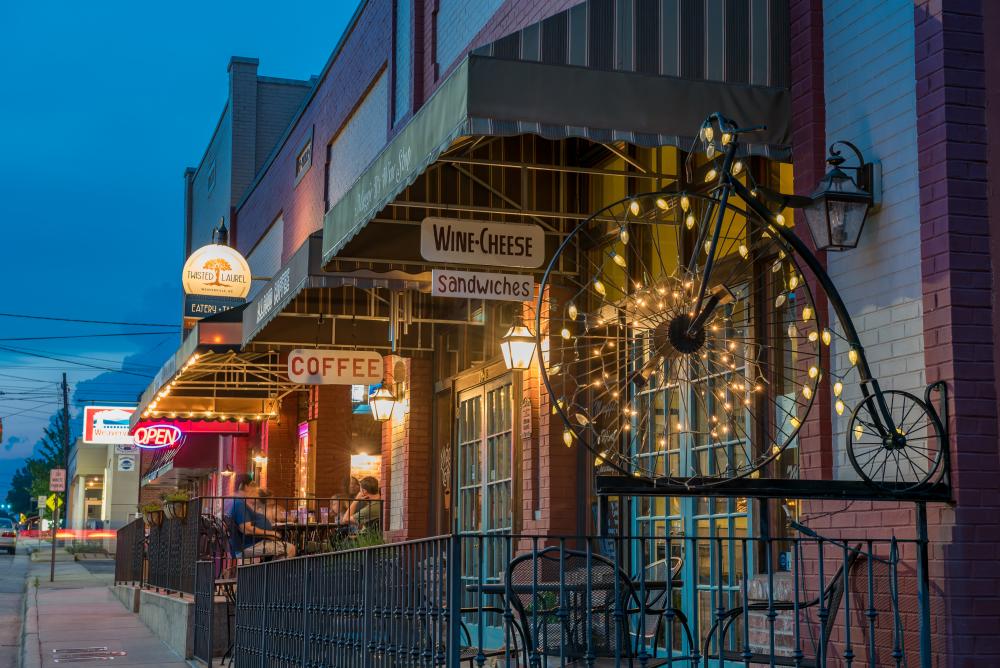 Asheville's neighboring town to the north hosts a downtown party and fireworks. Live music will occur at 7:30 p.m. in front of Town Hall and the fireworks start at 9:45 p.m. Check back for more information as it becomes available.
Black Mountain Independence Day Fireworks and Hike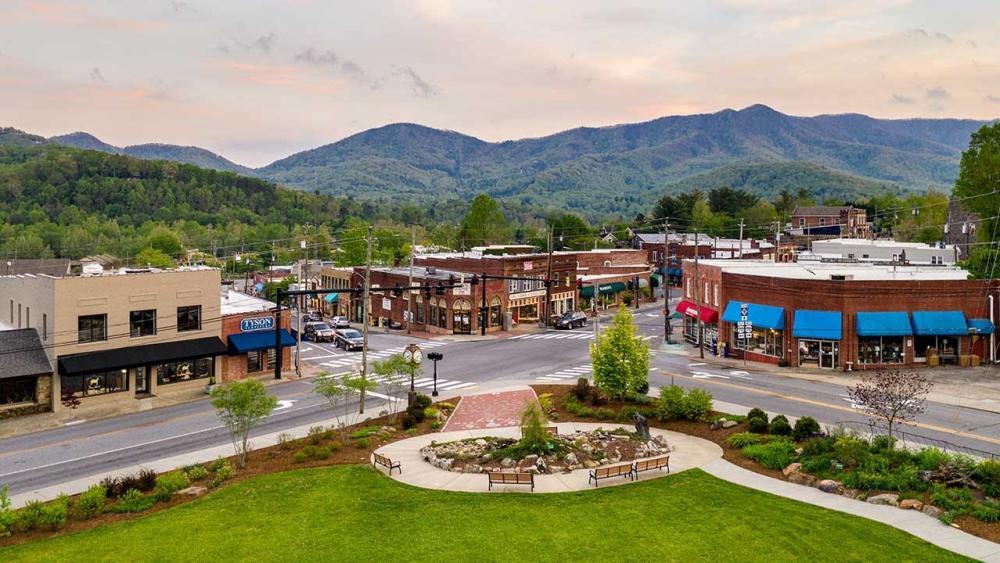 The town of Black Mountain (less than 20 minutes east of Asheville) hosts its fireworks show on Monday, July 4.
For a unique perspective on Black Mountain's fireworks show, join the Swannanoa Valley Museum & History Center on a 1.5-mile, moderate hike to the peak of Sunset Mountain (July 4). At the summit, you'll enjoy an old-fashioned watermelon cutting and then watch the sunset and fireworks. During dinner, hike leaders will share history and vintage photographs. Cost is $50 for members, $65 for non-members and $35 for participants under 18 years-old. For more information and to register, click here. 
Montreat Fourth of July Parade and Celebration
The Montreat Conference Center hosts an old-fashioned Fourth of July parade that is a longtime favorite in the area because of how it captures the essence of American life. The celebration traditionally has been a homecoming holiday that brings extended Montreat families together from all over the country.
In 2022, the parade is scheduled for Monday, July 4, at 10:30 a.m.
Updated June 17, 2022