Fourth of July Events and Fireworks in Asheville, N.C.
How to Celebrate Independence Day in Asheville in 2020
Asheville takes great pride in celebrating our nation's Independence Day. From festivals to parades to fireworks, Asheville has a blast celebrating the Fourth of July here in the Blue Ridge Mountains.
However, due to the need for social distancing because of the COVID-19 pandemic, the City of Asheville has announced that it will not host its traditional Independence Day celebration and fireworks show in 2020. 
Instead, the Asheville Downtown Association is planning a virtual Independence Day celebration featuring an online concert series with eight local bands. The online concert event is presented by Ingles Markets, with support from Explore Asheville, and produced in partnership with the City of Asheville. Ways to watch include at IamAVL's Youtube channel or on the Asheville Downtown Association's Facebook page.
The online concert will begin at 4 p.m. on July 4, 2020 and will feature eight local artists taking the stage at four venues across Asheville. Featured artists include:
4 p.m.: BoogiTherapi with Ryan RNB Barber (funk) from Asheville Music Hall
4:30 p.m.: Jane Kramer & Friends (singer/songwriter) from The Grey Eagle
5 p.m.: Lyric (soul/R&B) from The Orange Peel
5:30 p.m.: Peggy Ratusz and Daddy LongLegs (blues/jazz) from Isis Music Hall
6 p.m.: Joe Lasher (country) from the Orange Peel
6:30 p.m.: Funk Jam House Band (funk/rock) from Asheville Music Hall
7 p.m.: Fireside Collective (bluegrass) from Isis Music Hall
7:30 p.m.: Empire Strikes Brass (New Orleans-style brass band) from The Grey Eagle  
While there will be no organized celebration or fireworks show in 2020 in Asheville, there are still many ways to enjoy Asheville on Fourth of July weekend. Attractions, shops and restaurants (including dine-in service) are open. Bring your mask/face covering -- masks are required inside public places. Masks are also required outside in public places where social distancing isn't possible. 
A perfect way to celebrate, and practice social distancing, is by immersing yourself in the natural beauty of the mountains. Check out our Asheville Hike Finder tool to find the perfect hike for you!
How Asheville typically celebrates the Fourth of July
(Original post)
There's something special about watching fireworks burst over the twinkling skyline of downtown Asheville that keeps families coming back on Fourth of July year after year. In a typical year, the fun at the Ingles Independence Day Celebration begins in the early afternoon on July 4th in downtown's Pack Square Park.
The annual festival is family friendly with a toddler bouncy houses, two giant slides, an obstacle course and a slack-line area. The Splasheville Fountain gives kids a space to cool off and splash about. 
The afternoon is also a popular time for families to have a picnic on the Roger McGuire Green. Music kicks off in the late afternoon.
Have dinner at one of downtown's many great restaurants before heading back over to Pack Square Park for the fireworks show beginning just after the national anthem. No outside alcohol, coolers, or pets are allowed in the park.
Tips from the locals: The fireworks can best be seen from Pack Square Park. There are also some good spots along N. Spruce Street near the intersection with College St. Arrive early and bring a chair or blanket to sit on. Parking is available in the parking decks (first hour is free), on the streets, and in private lots.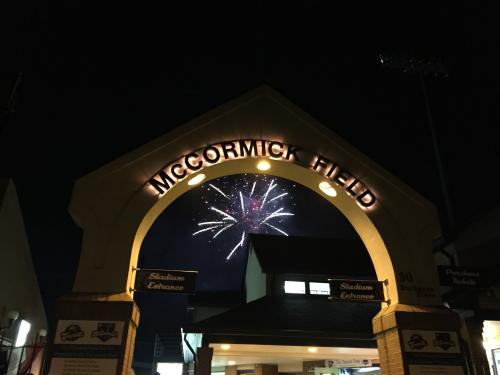 Asheville Tourists Baseball Game and Fireworks
(Canceled for 2020)
Enjoy America's national pastime as you gear up to celebrate Independence Day! 
Tips from the locals: Purchase your tickets early. The game typically sells out. Also, bring a blanket. When the game ends, you'll have the opportunity to watch the fireworks from the field!
South Asheville Fireworks Over Lake Julian
(Canceled for 2020)
One of the largest fireworks shows in the area happens over the calm water at Lake Julian Park. Arrive early and use the picnic tables, grills, sand volleyball court, horseshoe pits, boat rental and playground. The fireworks begin at dark. Bring a lawn chair or blanket and find your spot. Nearly all spots along the lake offer a great view of the fireworks, which reflect beautifully on the water. No coolers are pets may be in the park that evening.
Tips from the locals: Park in the lot for Estes Elementary across from Lake Julian Park (parking is not permitted at the Lake itself on July 4th). Also, bring a jacket or a sweater! Evenings can be cool at the lake, even in July!
Black Mountain July 4th Street Dance and Fireworks
(Canceled for 2020)
The town recently named "America's Prettiest Small Town" by readers of TripAdvisor, celebrates the Fourth of July in a classic way. Family fun in Black Mountain includes a street dance with a live band, games, and food on Sutton Ave. near the old train depot. The fireworks will start at dark behind the BI-LO. The fireworks can be seen from man places throughout downtown.
Tips from the locals: For a special experience, take the Swannanoa Valley Museum's 2.5-mile roundtrip, moderate hike to the top of sunset mountain. Dive into an old-fashioned watermelon cutting before heading up the mountain to watch the fireworks below. Hikers meet at 6 p.m. The museum will transport chairs/other cargo up the mountain. Tickets are $35 for museum members and $50 for non-museum members.
Montreat Fourth of July Parade and Celebration
(Canceled for 2020)
The town of Montreat hosts an old-fashioned Fourth of July parade that is a longtime favorite in the area because of how it captures the essence of American life. The celebration traditionally has been a homecoming holiday that brings extended Montreat families together from all over the country.
Tips from the locals: Put on your dancing shoes and check out the square dance from 7-9:30 p.m. No experience is necessary to enjoy the fun!
Weaverville Downtown Block Party and Fireworks
(Canceled for 2020)
Asheville's neighboring town to the north hosts a downtown block party and fireworks. In 2019, the fireworks were displayed from the Weaverville Elementary School baseball field (Main Street). 
Updated June 30, 2020