Foodtopian Spotlight: Summer Squash Recipes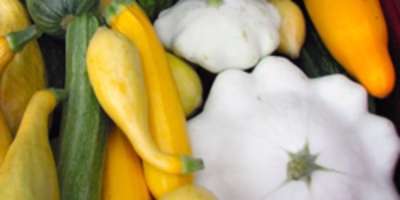 Being a part of a
Foodtopian society
means knowing your food is farm fresh and locally grown. A vegetable holds the most nutrition the moment it is picked so it's good to get your hands on it right away. That's pretty easy to do with so many
mountain tailgates
and
farmer's markets
happening on a weekly basis. Buy farm fresh and you'll notice the difference in flavor.
One vegetable that is in peak season right now is summer squash. Not only does it have a great taste, it's loaded with health benefits. The insoluble fiber helps aid digestion and fills you up faster; preventing the need for second helpings. It's also a great source of Vitamin C, beta-carotene and folate (a B Vitamin). This means lower risk of cancers, heart disease and it helps reduce arthritis and asthma.
Summer squash is also versatile in the kitchen. Check out these fantastic recipes to get your summer off on the right foot.
June 10, 2011