Foodtopian Spotlight: Roux Serves Up Farm Fresh Bounty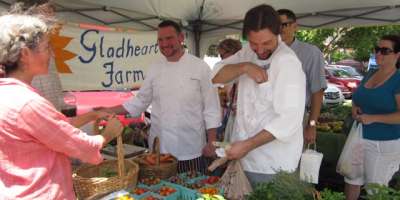 Biltmore Beacon July 28, 2011
by:  Mary Koppenheffer - Staff Writer
Roux
executive chef, Randy Dunn, does not need to travel far to bring farm-fresh ingredients to his menus.  Every Wednesday afternoon, Asheville City Market South sets up only a few steps from his kitchen, located in the Hilton at Biltmore Park, allowing him to choose produce just picked that morning.
Chef starts with some menu ideas already in mind depending on what he expects to be available.  He waits to browse the famers' stalls before finalizing that evening's offerings.
Last Wednesday, chef and his sous chef, Joe Koenig, took about 40 minutes to visit several farm tents and select vegetables, fruits, cheese and whole grain bread that would complement the menu.  The fresh herbs they use are grown in their own kitchen garden.
Before selecting their purchases, Chefs Dunn & Koenig walk through all of the farm tents to see what looks best that day, chatting with the growers and asking about the varieties they are offering. Chef's selections Wednesday included heirloom tomatoes, corn, Mountain rose and Adirondack blue potatoes, huge, sweet, blackberries, whole grain crackers, and gruyere cheese, all from different farms.
Back at the kitchen surveying the crop of fresh produce, chef Dunn said, "there is no comparison to the taste of 'just-picked' vegetables."  He picked up one of the huge, deep red, tomatoes from Gladheart Farm to appreciate the fresh aroma.  "A tomato in the refrigerator for as little as 30 minutes can completely loose this beautiful smell."
The chefs prepared a preview of that night's menu, and in less than 30 minutes, had created an appetizer, salad and entree. 
Chef used the tomatoes to create "Heirloom Tomato Napoleon," fresh basil and  slivers of gruyere cheese layered between thick slices of fresh tomato, and topped with a whole grain, organic, cracker from Roots & Branches.  A balsamic reduction finished off this appetizer.
The salad included tri-color lettuces, Chevre cheese from Three Grace's Dairy (where chef revealed his personal favorite was 'jumpin' juniper'), huge, dark purple blackberries, sliced avocado, and a sprinkling of candied pecans.
Trout was the evening's special entree, served on a bed of pink and blue potatoes, fresh corn and crisp-cooked beans.
Hilton Asheville's General Manager, Stan Turner, said he was happy to be able to promote local farmers while enjoying the freshest ingredients available.  In addition to the Wednesday's farmer's market special menu, Roux uses eggs and other produce from Cane Creek Organics, along with other local suppliers.
"Chef has created a 30-mile burger," Turner said.  "All of the ingredients, including the meat, come from within 30 miles of Asheville."
More photos of Chef Dunn's farm fresh creations can be seen on their
Facebook page
. To learn more visit their
website
. 
The Wednesday afternoon farmers market is sponsored by
Appalachian Sustainable AgriculturalProject
(ASAP).  The market operates along Town Square Boulevard in Biltmore Park on Wednesday afternoons from 2 to 6 p.m. through October.
August 16, 2011