Foodtopian Spotlight: OneFiftyOne Serves Up Amazing Local Fare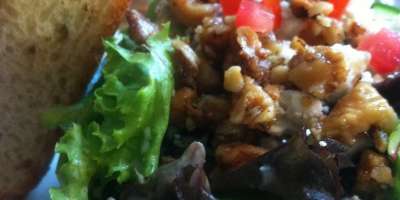 The Hotel Indigo in downtown Asheville may not be the first place you expect to serve farm fresh food, but prepare to be amazed. Not only does their OneFiftyOne Boutique Bar & Kitchen embrace the Foodtopian farm-to-table concept, but they're serving up incredible dishes, including the best crab cake in Asheville (hands down). 
The Hotel Indigo brand has always supported local artists, community and history. Now they want you to experience food the way it should be enjoyed - local and fresh. The Indigo is also hosting a contest to find the best local dishes in America, but more on that in a moment. First, I want to share the food you'll find at OneFiftyOne. Check out these delicious dishes. I'll let the pictures do most of the talking.
Local spring greens, garlic toasted walnuts, gorgonzola, citrus vinaigrette with an English cucumber wrap. 
Crab cake with citrus beurre blanc and baby arugula. (Absolutely amazing - and this blogger's favorite dish of the night)
Braciole - you would find this in a traditional Italian home. It's red wine braised, thinly sliced Angus sirloin wrapped with prosciutto, romano, fresh herbs and tomato on house-made pappardelle pasta.
Sorbet, made in house, includes blackberry, drunken peach and ginger. Very refreshing.
Craft cocktails are a specialty for the OneFiftyOne. They also have an incredibly impressive wine list that pairs well with most of the dishes they serve.
The list of local food vendors is impressive. Their ingredients come from Three Graces Dairy, Hickory Nut Gap Farm, Sunburst Farm, Mountain Sunshine Farm, Spicewood Farm and a number of others. They have a decent selection of local brews as well.
As mentioned previously, the Hotel Indigo brand is searching for the best local dishes in America and have teamed up with celebrity chef Curtis Stone to seek them out. Foodies from across America can enter for the chance to win a VIP trip for two to NYC to experience some of the most diverse food neighborhoods and dishes in the country. Visit the Hotel Indigo Facebook page for the full scoop.
September 15, 2011