Foodtopia for the People of Atlanta: Win a Vacation to Asheville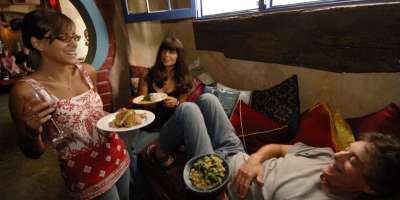 Atlanta foodies…start your taste buds! This April, Asheville is packing up its culinary and craft beer culture and heading to the big city.
Foodtopia for the People
will offer Atlantans chances to win more than 600 tasty prizes, including five culinary getaways to the mountains.
We will announce
five grand prize vacation winners
at our
Meet the Foodtopians
event on April 27 in Atlanta—an evening of farm fresh delights and a chance to mingle with the chefs, artisan food producers, farmers, craft brewers and wine makers who call Asheville home. Atlantans who win one of 30 pairs of Meet the Foodtopians tickets will also be entered to win an awesome vacation package.
Winning is as easy as pie….well, almost
To participate, answer daily online trivia questions or hunt down the secret location of the Asheville Street Team in Atlanta. For details (and tips on how to significantly increase your chances of winning), visit
FoodtopiaforthePeople.com
.
What is Foodtopia?
What is this "Foodtopia" that we speak of? Around here, we like to say we live in a Foodtopian Society, where the food is locally grown, lovingly prepared and each taste tells you something about the people who make it and the land where they live. From haute cuisine to gastro-pubs to proud dives with lines out the door, we think that Asheville is a culinary paradise, full of food adventures.
In Asheville, we also believe good food is about sharing a piece of your heart. Try not to blush, Atlanta.
April 1, 2011