Food Truckin'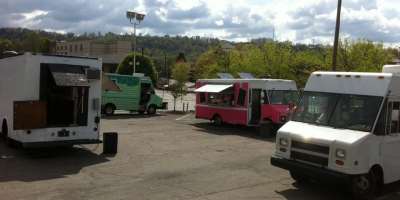 Asheville Food Trucks Offer New Variety in Foodtopia.
The Lot serves as the downtown base for Asheville food trucks.
Welcome to Food(truck)topia! Food trucks are a relative newcomer to Asheville's food scene, and already there has been a boom in the number of these restaurants-on-wheels. Keeping up with them can be a little daunting so we compiled a list of known trucks, locations and their social media sites to help keep you informed. Please note that locations and schedules change constantly so check their social media sites first.
The Lot: A gathering place for food trucks in downtown Asheville, the lot is an easy choice if you don't want to hunt all around town. Be sure to follow their Facebook page for daily updates.
Who: Ceci's Culinary Tour
What: Argentinean fare including empanadas, pampueques (crepes) and tamales.
When/Where: W, F, Sa - 5PM The Wedge; Su - 4P Wedge
Who: Eatbox
What: Delicious locally-sourced soups and sandwiches, including Hickory Nut Gap cheeseburgers.
When/Where: Makes appearances at area festivals, and is sometimes parked in West Asheville.
Who: El Kimchi
What: Korean-Mexican fusion featuring kimchi quesadillas, teriyaki chicken burritos and traditional bibimbap rice bowls. Take-home kimchi jars, too!
When/Where: Varies. Known locations include The Admiral, BattleCat Coffee and Patton Ave. Pet Co. in West Asheville; Vinnie's Italian and ACS Business Park, too.
Who: Flying Falafel Brothers
Who: Gypsy Queen Cuisine
What: Traditional Lebanese favorites sourced from local and sustainably grown ingredients. Falafel and Chicken Shawarma are fan faves.
When/Where: M, W, F, Sa - Lunch on Haywood Rd. in West Asheville, across from Ingles; M, Tu, Th - Dinner at the Wedge; F - Dinner at the Bywater.
Who: The Lowdown
What: Gourmet sandwich choices including bbq, vegetarian bahn mi and BLTP (pimento cheese).
When/Where: M-F - Lunch at the Citgo on Broadway; Dinner sometimes at the Bywater; Saturdays around town.
Follow: @TheLowdownTruck
Who: Melt Your Heart
What: Gourmet grilled cheese made with love.
When/Where: M-Sa - Seen at The Lot on Tu, Tr and F from 11A - 4P. Other location vary.
Who: Pho Ya Belly
What: Serving Vietnamese cuisine, including pho, spring rolls and bahn mi.
When/Where: Often found at The Lot on Coxe Ave.
Who: Our Taco Truck (formerly known as Pink Taco Truck)
What: Giant pink truck with fresh Mexican dishes such as puffy tacos, pastor tacos and delicious breakfast burritos.
When/Where: Tu-Thu - Breakfast & Lunch at 143 Charlotte St (the empty BP station).
Follow: @OurTacoTruck
Who: Tin Can Pizzeria
What: Fresh, locally sourced ingredients atop delicious pizza pies.
When/Where: W-Su, 11:30 a.m. - 2:30 p.m. Found outside of Pink Dog Creative in the River Arts District. (342 Depot St.)
Follow: Facebook Page
Who: Ursa Minor
What: Coffee truck serving locally-roasted Dynamite coffee, teas and natural smoothies, as well as organic baked goods from West End Bakery and Sugar Momma's cookies.
When/Where: M-F, 8 a.m. - 2p.m. at Riverview Station (191 Lyman St) in the River Arts District. Also frequents The Lot.
Who: Veggie Love
What: Vegetarian; Plus Vegan/raw baked goods by special order.
When/Where: Frequently seen on Depot St. in RAD
Who: Venezuelan Food Truck
What: Venezuelan fare: Arepa Burgers, Hot dogs and vegetarian fare.
When/Where: O

perates from 8 a.m. - 2 p.m., Thursday through Sunday on Haywood.
Follow: No site found for this truck.
Do you have news regarding food trucks in the area that aren't on this list? Let us know! Send a message on Twitter to @Foodtopia or send an email to dholston@exploreasheville.com
April 5, 2012