Food Bloggers Take a Bite Out of Asheville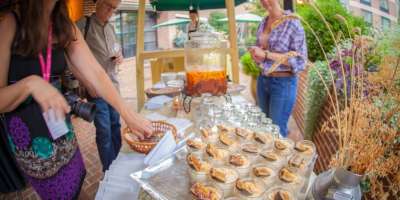 Culinary Conference Finds a Foodtopian Experience
This week Asheville welcomed
Food Blog Forum 2014
, a conference of more than 100 food bloggers, food writers, recipe developers and all-around foodies. It was three whole days of networking, touring, learning, laughing and--of course--eating!
We wanted to share a few looks at this tasty affair, which highlighted more than 70 local restaurants, chefs, growers, producers, bakers and brewers. It was a real "food utopia"--and everyone went home stuffed!
The event kicked off on Sunday evening at the
DoubleTree by Hilton Asheville-Biltmore
, with a Moonshine Madness-themed reception featuring grilled peach moonshine, fried grit cakes, banana pudding brulee and lots of friendly mingling.
Troy & Sons Distillers
provided the 'shine, which was enjoyed neat, infused and mixed into a mountain-style Old Fashioned.
Monday's agenda was filled with educational sessions on teamwork and food photography and punctuated with amazing door prize giveaways, including a KitchenAid refrigerator! The conference was held at
Biltmore's Lioncrest center
, which provided an inspiring setting and a delicious Southern lunch buffet, complete with tea-brined fried chicken and gourmet chocolate pudding.
Following a full day of programming, the bloggers were treated to a private tour of
Biltmore House
, including an up-close-and-personal look at Edith Vanderbilt's menu book, documenting every dinner at the estate, from family gatherings to 10-course Thanksgivings feasts. Dinner was served at Diana, an outdoor venue that overlooks the house, and was cooked by six of the estate's top chefs. The "biscuit bar"--complete with jams, butters, pimento cheese and house charcuterie--was a favorite among the bloggers.
Tuesday closed out the event with a bang, beginning with a "Taste of Asheville"-style event at
Highland Brewing Company
featuring bites, sips and pairings. Bloggers had the opportunity to meet local chefs, chat with artisan food producers and taste several handmade foods with Highland beers.
Later that afternoon, the group split into two for farm tours at
Hickory Nut Gap Farm
and
Looking Glass Creamery
, where they also encountered more artisan foodies such as Buchi kombucha and Sunburst Trout Far. And for those who still had an appetite at the end of all of that, there was a personalized downtown restaurant crawl with 16 participating restaurants whipping up special small plates and drink pairings, including some that offered a private audience with award-winning chefs.
Check out a few of the photos below, and stay tuned for more fun Foodtopian news.
Interested in hosting your next event in Asheville? Work with us!
August 23, 2014