Flavors of Foodtopia: Part 2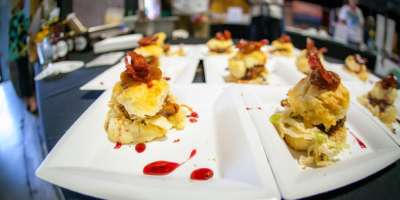 More recipes and tales from Food Blog Forum
Mimosa Fried Chicken Biscuits by chef Jason Roy at Biscuit Head.
When more than 100 food bloggers visited Asheville in August for the 2014 Food Blogger Forum conference
, we challenged them to take all they had seen and tasted and turn it into something delicious.
And did they ever!
One lucky blogger who shared their foodie inspiration also won a trip back to Asheville, packed full of culinary adventures.
We're happy to announce our winner is Meghan with the Colorado-based food blog
Cake 'n' Knife
!
This was Meghan's first Food Blog Forum, and--rumor has it--her first taste of collard greens, too! After her visit, she posted her
review with tons of beautiful photos and a recipe for a cocktail she named The Asheville 'Shine
, featuring moonshine and a lemon cherry echinacea soda syrup by Asheville's Blue Blaze Sodas. Congratulations, Meghan!
There were so many wonderful posts and dishes from these food bloggers that we just have to share some more:
If you want to check out more Asheville-inspired recipes, photos and stories, take a look at our
Food Blog Forum pinboard on Pinterest
, and save a few for later:
Explore our collection of holiday-ready Asheville recipes.
October 24, 2014