First Year Flies for The Blackbird + Recipe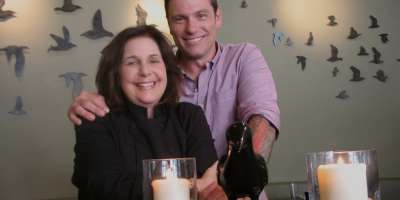 Downtown eatery celebrates anniversary & national TV appearance.
Roz Taubman and host Chuck Hughes

of Chuck's Eat the Street.
October was a big month for the team at
The Blackbird
restaurant in downtown Asheville. Not only were they celebrating the one year anniversary of their move from nearby Black Mountain into the heart of downtown Asheville, but they also ended the month with an
appearance on the Cooking Channel's Chuck's Eat the Street
.
Chefs and co-owners Roz Taubman and Robert Buggia opened The Blackbird in 2009 and last year brought their restaurant to Biltmore Avenue, in the space just below the new Aloft hotel. The menu, which they describe as "modern Southern with a nod to tradition," features locally sourced produce and meats, fresh seafood from the N.C. coast and local craft beers.
Triple Mocha Mousse Torte

Photo courtesy of The Blackbird.
Two of the favorites on the dessert menu are Roz's famous coconut cake, which was
featured on the Cooking Channel segment
, and this delicious and decadent treat, perfect for the chocoholic in you.
Recipe: Triple Mocha Mousse Torte
Yields: 1 torte (1 / 12" spring form pan)
For the walnut layer:
5 C ground walnuts
1 C sugar
½ t salt
1/3 lb butter
1. Melt butter and combine with walnuts, sugar and salt.
2. Press firmly into bottom of spring form pan.
3. Bake at 350° for approximately 30 minutes, or until just brown around the edges.
4. Cool in cooler.
Photo courtesy of The Blackbird.
For ganache layer:
1 lb chocolate
¼ lb butter
¼ C corn syrup
2 C heavy cream
5. Melt chocolate and butter.
6. Add corn syrup and remove from heat. Gradually add cream.
7. Allow to cool then spread on cooled walnut layer.
For mocha mousse layer:
¼ lb chocolate
1 t instant espresso
8 eggs
3 C brown sugar
1 lb butter
8. Separate eggs and beat whites with whip until soft peaks form and set aside.
9. Beat butter and sugar with paddle and gradually add egg yolks.
10. Meanwhile, melt chocolate and coffee together and add to butter mixture. To combine well, take out of mixing bowl and pour into larger bowl and fold in egg whites.
11. Spread on top of cooled ganache layer and cool for 24 hours.
For cream layer:
12. Whisk ingredients together until whipped. Spread on top of cooled mousse layer.
Check out other great recipes from Asheville restaurants.
November 5, 2013