First Hints of Fall Color Appearing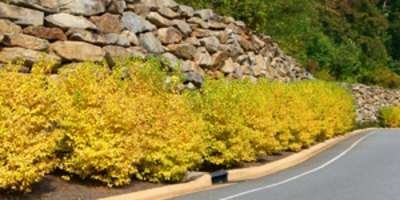 The first signs of fall color are bursting to life in pockets at varying elevations around the Asheville area. This is a great time to check out some of our recommended early fall scenic drives.

Fall Color Report (2,500 Elevation and Below)
This early in the fall color season, the color is spotty, but it's also quite stunning. At the North Carolina Arboretum in Asheville, the dwarf dogwood bushes (pictured above) entering the 434-acre public garden are coated in bright yellow, with just a tinge of green remaining on top.
The Arboretum, at around 2,500 feet, also features the largest Bonsai collection in the Southeast, and the outdoor garden of miniatures also turns color for fall. In fact, the Japanese maple in the Bonsai garden featured a bold burgundy shade on leaves along the edges. The fall mums in the Quilt Garden (pictured below) are in bloom.
"We're seeing a lot of our ornamental grasses and fall wildflowers that are starting to really show," said Angie Chandler of the Arboretum. Trees like dogwoods, sourwoods and blackgum are also beginning to turn.
Fall Color Report (Elevation of 2,500 to 4,000)
Just north of Asheville, in Boone, with an elevation around 3,300 feet, a later peak is expected at this area that is typically one of the first to peak in Western North Carolina.
Mac Forehand, director of the Boone Chamber, said dogwood trees, decorative maples and sumac bushes are just starting to turn colors. They usually start changing in late August, though, and are a couple weeks behind. He predicts the peak will be splendid when it does arrive. "I think we're going to do very well," he said. "I think maybe because things have been so warm, it's going to run late. Almost nothing's starting."

Fall Color Report (4,000 Feet and Above)
The first peaks of fall typically occur at the highest elevations in the Western North Carolina mountains, and some of those elevations are seeing the first signs of autumn.
"We have one little pocket at Linville Gap where the trees always turn earlier, and they are starting to show a little color," said Catherine Morton at Grandfather Mountain, situated north of Asheville at 5,864 feet and featuring a swinging bridge to take in the fall landcape.
That area still hasn't seen the color begin to emerge full-force, however. "It will happen fast when it happens, but it hasn't happened yet," she said.
Along the Blue Ridge Parkway, locust trees are starting their fall color change. There are also beautiful fall flowers blooming, including aster and goldenrod. Above elevations of 5,000 feet, poplar and birch trees are turning yellow and blueberry bushes are turning red, according to the parkway report. Asheville area locations such as Graveyard Fields, Mount Pisgah and Mount Mitchell, the highest peak east of the Mississippi, are above 5,000 feet.
At the Pisgah Inn at Mount Pisgah, the color is also just starting to appear. "There are pockets of color," said inn manager Bruce O'Connell. "It's real spotty, but it's pretty brilliant right now."
Get the Fall Color Hunter Reports
Be the first to find out what the color hunter knows!

September 20, 2007