Fire on the Rock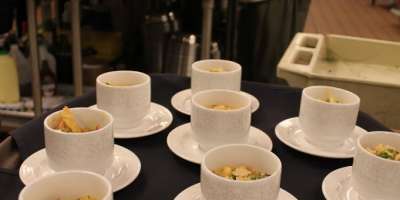 North Carolina Competition Dining Series Lets You Be The Judge.
Last night, the Lioncrest at Biltmore was packed with food enthusiasts who were there to answer one question - which chef deserves to win the title of Top Chef in North Carolina? Fire on the Rock is the first in a series of statewide competitions where culinary talent square off in a tournament style cook-off.
The first round pitted Chef Peter Pollay from Posana Cafe against Chef Scott Wallace of The Rankin Vault. Each chef took the opportunity to break out of their typical kitchen style. Posana is a gluten-free restaurant, so Pollay and his team embraced wheat-based ingredients. The Rankin Vault typically serves up standard bar food fare, so Wallace flexed his culinary prowess, channeling his years of experience as an Executive Chef, to impress the audience.
Each night there is a new secret ingredient that the chefs must incorporate into each dish. Last night the ingredient was cheese. Two types were on the table - One was the Bailey Mountain Tomme from Spinning Spider Creamery. The other, Ashe County Sharp Cheddar. Here were the courses served along with the corresponding culinary team: 
1st Course

: Pesto Shrimp, Bacon Chowder, Tomme and Lump Crab. - Team Vault

2nd Course

: Tomme Gnocchi, Braised Bacon, Lobster Cheddar Sauce. - Team Posana

3rd Course

: Braised Veal Cheeks, Tommes-Cheddar Polenta Cake, Bacon Collards, Green Peppercorn Demi. - Team Vault

4th Course

: Bacon Wrapped Pheasant stuffed with Pine Nuts. Cheddar, Andouille & Crawfish with Farro. - Team Posana

5th Course

: Fried Duck Breast, Cheddar Green Onion Biscuit, Cherry-mint Jam, Spiced Honey Bourbon Syrup. - Team Vault

6th Course

: Braised Veal, Cheddar Grits, Mushroom-Tomme Jus, Pickled Oyster Mushrooms. - Team Posana
Team Posana & Team Vault (left to right)
All of these dishes were excellent, but in the end only one chef could win. By less than one point that chef was Peter Pollay of Posana Cafe. He'll square off against the winner of tonight's sold-out competition, where Red Stag Grill will compete against Hobnob.
January 15, 2013