Find Solace When Dining in Asheville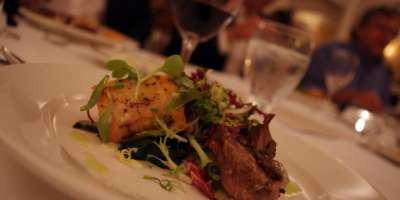 Photo courtesy of Mark File
A new restaurant has opened its doors in downtown Asheville. Restaurant Solace, located within the Haywood Park Hotel at One Battery Park Avenue, brings an exciting new menu to town that, in true Foodtopia fashion, incorporates local farm fresh bounty from Western North Carolina farms to create comfort food with a European flare.
The upstairs café and patio offer "small plates" and a full bar. The atmosphere is that of an authentic European cafe experience that encourages locals and visitors to mingle and socialize, much like the French café society in the 1930's. The Dining Room (accessed via the Haywood Park Hotel's lobby elevator), offers a different menu and an atmosphere of refined elegance.
The café's small plates include such items as savory cheesecakes, lime and ale braised local rabbit, duck and pheasant confit and basil fed snails. The Dining Room menu includes entrees such as Black Buck Antelope, chilled Black Sea Bass with Sunburst trout caviar and roasted beet oil, coffee and spice roasted rib veal chop, spring cassoulet of Venison Osso Bucco and braised rabbit and a Solace seasonal vegetarian dish.
Aside from the amazing menu, there is a unique local artisan market being added that will sell a variety of farm fresh veggies; the same used for the restaurant's menu items. This market will be open to the public and will be stocked continuously with vegetables, fresh baked bread and other seasonal offerings.
Hours of the café are 11:30 AM - 12:00 AM Sunday seven days a week. The dining room will be open from 5:30 PM - 10 PM Tuesday through Sunday, closed Monday. For reservations and information call 828-505-8333 or visit their website.
May 23, 2011