Fashion Tips for Bele Chere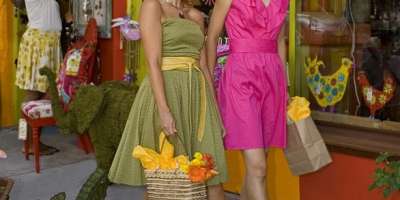 Local Ashevillian and writer for the Mountain Xpress, Alli Marshall, has outlined her fashion do's and don'ts for this year's Bele Chere festival. Never fear though, if you find yourself unprepared there are plenty of places around town to shop for the items you need.
Do:
• Wear plenty of sunscreen and a hat. Skip the ball cap (you'll sunburn your ears) and try a wide-brimmed straw hat, a breezy fedora or a canvas bucket hat (think: Gilligan — after all, you're on Bele Chere Island).

• Wear light colors and loose, airy fabrics. This might be your one legitimate opportunity to rock that India-print sundress. We're not saying dress like you're going to the original Woodstock, but if ever there was a time and a place for paisley and gauze, this is it.

• A backpack, tote bag or cross-body satchel are essential for carrying water, a schedule, water, souvenirs, water and sunscreen. (And pack an umbrella, too. There's almost always one good storm.)

• Make a statement with sunglasses. You're going to want them anyway — Bele Chere tends to be sunny. Often relentlessly sunny. Except for that one good storm.

• Carefully consider your footwear before embarking. Cute but comfy flats are a must. Flip-flops are a favorite, but gladiator sandals look dressy and you don't have to risk twisting an ankle when you go to bust a move at the Railroad Earth show.

• Jorts (jeans shorts) are forever festival-fashionable. Just no short-shorts, people. Save a little something for the honeymoon. 

• Support a local business by buying a bag, hat, accessory, sundress or fun T-shirt to commemorate the occasion. Keep a little festival spirit in your wardrobe all year long.
Don't:
• Go shirtless. Seriously, guys, if you're not happy with your choice of shirt then splurge on a new one. There are plenty of purchasing opps around the festival; keep your cardio lapses and unfortunate tattoo choices a well-guarded secret.

• Break out the leather. Yeah, you're a rock star. But it's pushing 90 degrees. How cool will you look when you collapse from heat stroke halfway through Jessica Lea Mayfield's set? 

• Wear your highest heels/pointiest boots/bare feet. The festival spans nearly all of downtown Asheville. You're not going to park anyplace close by, and you're not going to get out of this without a whole lot of walking. Plus, hundreds of thousands of people means all kinds of weirdness being dropped on the street. Even if "free spirit" is your thing, "shoe free" is a bad idea.

• Accessorize with a pet. Yes, Mr. Chips in his doggie bandana completes your ensemble, but pets are not allowed in the festival and Mr. Chips will have to spend the day in doggie jail where all the other dogs will laugh at his neckware. 
Read the full story here.
July 28, 2011