Farm Burger Asheville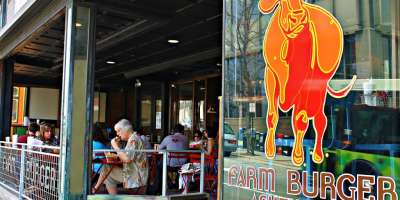 Asheville Foodspotting: Burgers and Bocce.
Carnivores looking to sink their teeth into an incredible burger should venture to downtown Asheville's newest restaurant, Farm Burger. Originally from the Atlanta area, this burger businesses is serious about using fresh, locally sourced ingredients, and proudly display the farms they support on the wall. Proving that they are more than the average burger joint, they only use beef that is grassfed, hormone-free, ground f
resh, and made in-house. Better yet, they know the right time to take the patty off the grill, so you're served a juicy burger and not a flat and dry patty.
Monster Burgers & Southern Sides
Build a mountain on top of your burger with some out-of-the-ordinary and delicious options. They offer the standard fare including good 'ole Dukes mayo, L.T.O. and locally-produced Lusty Monk Mustard, but for a couple dollars more you can upgrade with fun extras like pork belly, roasted bone marrow or oxtail marmalade. Hey, why not? 
Be sure to make room for their sides - Pimento Cheese Fries plus pickled jalapenos are one of four fry options they serve. Also, seasonal slaw, slow-cooked local greens, and red bean chili are available.
Bocce Ball
In the spirit of creating a lively atmosphere, the restaurant features a Bocce Ball court. This is the only indoor court of its kind in Asheville. Asheville Bocce league anyone?
April 10, 2013