Family Farm Tour Highlights Asheville Farm-to-Table Legacy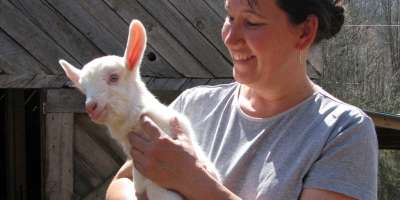 Discover more about Western North Carolina's local food movement and agricultural history with the Family Farm Tour from the Appalachian Sustainable Agriculture Project (ASAP) and its partners. Tour a wide selection of the area's most outstanding farms and gardens on June 27 and 28, 1 p.m.-6 p.m.

Buy Your Ticket Early
Purchase a button for admission for $20, plus $2 shipping at
www.familyfarmtour.org
. One button admits everyone in your car. You may also purchase buttons at participating farms on the day of the tour for $25. Gather your friends, fill a car, choose the farms you want to visit and plan a route. There are more than enough locations to fill a schedule for Saturday and Sunday.



Sample Local Flavors
Come with a cooler and your appetite. A variety of vegetables and fruits, trout, beef, pork, lamb, eggs, artisan cheeses, herbs, mushrooms, honey and preserves are available to sample or for sale. Watch animals such as bison, llamas, baby lambs and bunnies.



Open Your Mind & Learn New Skills
See traditional skills in practice—and even try them out yourself! Demonstrations include border collie shepherding, outdoor apple butter making, milking, maple syrup tapping and wool spinning.

Learn about new ideas during a tour of renewable energy systems. See a hydroponics system, visit an edible landscape and explore a garden labyrinth. Eat bread fresh from a wood-fired oven, savor artisan ice cream and stop for a picnic at one of the many beautiful farms along the way.
May 13, 2009